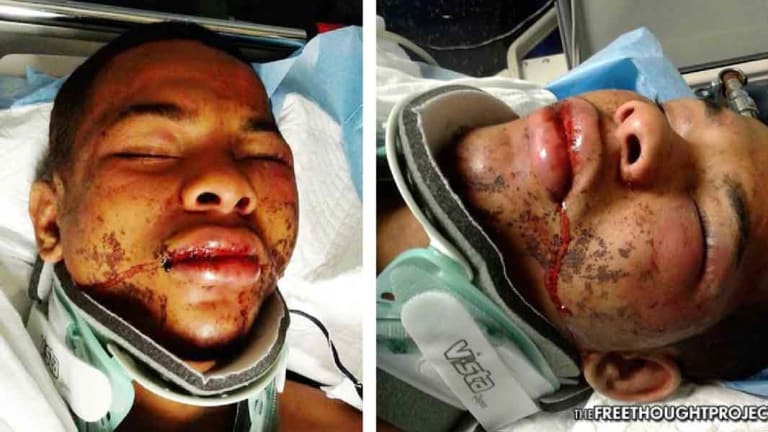 Cop Charged After Dashcam Caught Him Viciously Beating Compliant 16yo Boy
A Jersey cop has been charged after dashcam footage shows he beat a submissive kid, doing damage to his face, and forcing him to be hospitalized.
Carteret, NJ — Officer Joseph Reiman, 31, with the Carteret police department, has been arrested and charged with assault after a 16-year-old teenager testified the officer beat him mercilessly, even after he'd surrendered and submitted to the officer.
Prosecutors decided to charge the officer after the dashcam footage matched the unnamed teenager's allegations. His name and age are being withheld as he's a minor, but the boy agreed to be photographed.
Inside the hospital, photos were taken. They reveal he had swollen lips, eyes swollen shut, and multiple cuts and bruises. His eyes, days later, reveal he'd gotten black eyes as well.
He says Reiman hit him in the face at least a dozen times. The officer, whose brother Daniel Reiman is the Burrough's mayor, has also been charged with three counts of official misconduct, for failing to activate his body camera and for failing to use "reasonable discretion or restraint" in the amount of force used on the teenager.
According to NJ.Com;
The Middlesex County Prosecutor's Office said a video recorded by a camera inside a patrol car on scene captured the May 31 encounter and corroborated the teen's account that he was punched several times in the face after he had already surrendered to police.
Like many children do when they are younger, the boy had made a poor decision and taken his parents' car on a joy ride and led police on a brief chase before crashing the car. He said he got out of the vehicle and raised both hands in the air. That's when he says Reiman hit him in the face, knocking him onto his back. The officer then, allegedly, kneeled on him and punched him repeatedly in the face.
According to the official police records, the officer claimed the boy tried to run and resisted the officer. However, the officer's dashcam and witnesses exposed that story as a lie.
A witness to the assault told reporters it happened just as the teen described.
As NJ.com reports, Richard Watkins, who lives about 35 feet from where the incident occurred and said he did see the alleged assault, corroborated the teen's account. The teen was hospitalized for about a day and a half.
After severely beating the teen, leaving him with multiple injuries, the officer did not call an ambulance. Instead, he put him in the patrol car and taken to jail.
While the boy's decision to take his parents' car was a poor one, the officer choosing to viciously attack him for no reason was not warranted.
Reiman has been placed on paid administrative leave while the department case proceeds in court. The county intends to prosecute and the U.S. Attorney's office has been notified to determine if the boy's civil rights were violated in the encounter.
As The Free Thought Project has reported on so many other occasions it becomes exhausting, police officers are routinely placed on paid leave or 'paid vacation', as some critics contend, while prosecutors and defense attorneys prepare their cases.
All too often, the officers are exonerated and allowed to return to being cops. In the rare occasion where an officer is tried and convicted, it's not uncommon for the law enforcement officers to received the proverbial slap on the wrist, serving little to no time in jail or prison.
In Texas, a school resource officer was accused of having sex with a middle schooler on campus. He pleaded guilty to a lesser charge and was given probation.
In Wisconsin, a corrections officer was convicted of having inappropriate contact with a female inmate, and given three days in jail and a $200 fine. She says she was raped. A jury believed her and awarded her almost seven million dollars.
Unfortunately, in America, there appears to be a double standard for police officers. While they're expected to live above board in their conduct and contact with the public, in the real world, they seem to live above the law, suffering few consequences for such atrocious criminal activity.