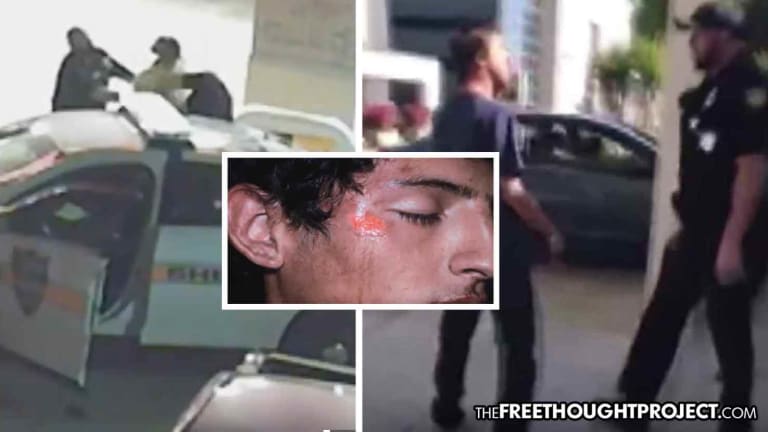 WATCH: Cop Beats Handcuffed Child, Spits on Mentally Ill Man, and Kills Someone—Can Still Be a Cop
A Florida cop was arrested for beating a handcuffed teen on video, seen on video beating and spitting on a mentally ill man, and he killed a pedestrian with his car, and he can still be a cop.
Jacksonville, FL — When it comes to holding police accountable, America is an utter and complete failure. All too often, a cop can be seen on video killing unarmed and innocent people, beating handcuffed individuals and wreaking havoc in general and not face any punishment. Timothy James is one of those cops.
Earlier this year, James was charged after fellow officers witnessed him beating a handcuffed 17-year-old boy in the back of his squad car. As TFTP reported, he repeatedly punched a 17-year-old child in the face. According to the reports, James climbed into the back seat of his patrol car, where two teens were waiting and handcuffed, and began punching one of the brothers in the face—hitting him so hard that he broke the boy's teeth. The sergeant saw it all from his own patrol car and then, like a good cop is supposed to do, he arrested James.
For beating 17-year-old Elias Campos—while he was in handcuffs—James was arrested and charged with battery. However, thanks to a corrupt and broken system, these charges have now all been dropped.
As part of a plea deal released by the State Attorney's Office, James had all charges dropped in exchange for his resignation.
Also, as New4Jax reports, James must perform 50 hours of community service, complete an anger management program and pay $170. James cannot commit any new local, state or federal offenses for three years.
Although he can't be hired on back at the JSO for the next three years, James can go over to the next town and get hired on, right now. Seriously.
In a resignation letter, James wrote in part:
It is with a heavy heart and the deepest regret that I submit this letter of resignation. Coming to this decision was difficult, but I feel it is the best decision for me and my family. ... It was an honor and privilege to work for this agency and I will deeply miss being a part of it.
He then requested all unpaid vacation and pension fund payouts which he will likely transfer over to another department who will probably hire him in the next few days.
While a cop beating charges for punching a handcuffed boy is bad enough, it's only the tip of the iceberg when we look at James' sadistic and violent history.
As Jack Burns wrote earlier this year, the damning part of this story is that the beating of Campos was not the first time James had been arrested by his own police force. It was the second time — inside a month. But that's not all. In fact, this model cop killed a pedestrian with his squad car too. And while JSO is prohibited from discussing his priors, investigative reporters with First Coast News uncovered his personnel file, which reveal the officer's sordid work history.
On at least 10 different occasions, James has been in violation of departmental policy. Killing pedestrians and beating handcuffed kids is not the upper limit of this cop's corrupt ability. In April, he's alleged to have spit on and abused a mentally ill man at UF Health, the University of Florida hospital.
After news of James' lack of charges, Campos' attorney John Phillips released a response, calling it a "dark day for justice."
At 3:09 (p.m.) today (Tuesday), we received the "disposition statement" related to the case against Jacksonville Sheriff's Officer Tim James. We represent Elias Campos, the 17-year-old victim of Officer James' repeated battery. He broke Elias' teeth in an unlawful arrest. The State Attorney's Office has chosen to dismiss these charges even though a fellow officer was willing to testify against Tim James. The terms of that dismissal are offensive and unjust.

Officer James has a history of violence against the citizens of Jacksonville while hiding behind a badge. He also hit and killed our client, Blaine Land, while operating his police cruiser at a high rate of speed. He has bragged on his own Facebook page about ... "whooping" people he encounters. Yet, he continued to be a paid member of JSO and now is simply asked to resign and forgo being an officer in the Jacksonville area. It is unacceptable and will only empower bad officers. He will move away and likely still be a law enforcement officer while sending a message to other officers that they can get away with crimes in Jacksonville.

Three other points: We need police accountability. Jacksonville consistently investigates its own officers despite having a conflict of interest to protect its own department from liability. That needs to stop. We also need body cameras immediately. The delays need to end. Finally, for our State Attorney's Office to publicly say it is "afraid" of trying tough cases sends a message that it is weak on crime and it is empowers police officers who push the boundaries to continue to do so.

It is a dark day for justice in Jacksonville.
To highlight the disparity between how the victims view this situation as compared to the police, we can look at the response from the Fraternal Order of Police who wished this violent cop well, noting, unironically, that the justice system worked as intended.
"The criminal justice system has worked as intended and we wish Tim James well in the future," Fraternal Order of Police President Steve Zona said in a statement.