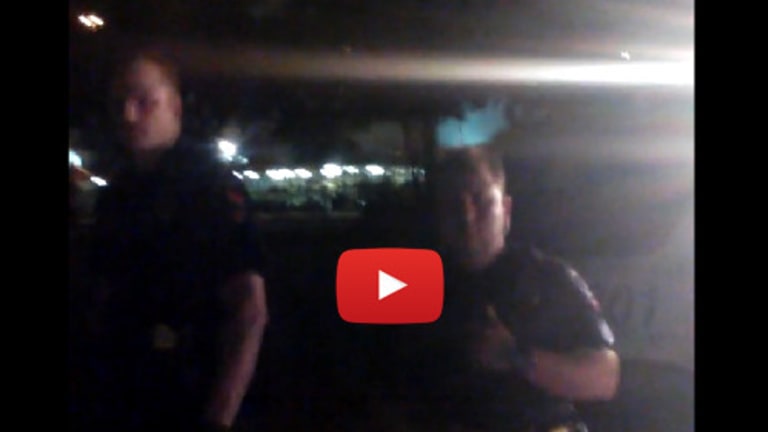 Cop Blockers Told By Police That They Don't Live in a Free Country
"That's why the second amendment of the Constitution was created, for tyrants like you!"
John Vibes
August 5, 2014
After a recent meeting held by members of Cop Block, Cop Watch and the Peaceful Streets Project, in Arlington Texas, attendees were followed and harassed by police. According to local Cop Block leader Joseph Tye, the group heard that their meetings were being monitored over their police scanner. The cops were allegedly giving descriptions of the Cop Blockers cars to one another over the radio and waited for the last two members to leave so they could follow them onto the road.
The individuals who were stopped by police, were actually brand new members of Cop Block. Unfortunately they were not able to hold their ground to prevent the police from detaining one of them and giving her a field sobriety test. To detain someone without charges is illegal in many states including Texas, however, the woman driving was bullied into complying with the police orders.
Luckily, Jacob Dova, of Tarrant county peaceful streets was called because he lived close enough to intervene in the situation. Eric Canales showed up toward the end of the traffic stop to question police and film the encounter. After he showed up and questioned their authority they eventually decided to leave, but not without attempting to intimidate him. While on camera, one of the policeman can also be heard telling Canales that he does not live in a free country. Sadly, this officer is speaking the truth, but the propaganda that underpins government monopoly police forces is built around the false notions that we live in a free country and that the government and police are here to help us.
Harassment of police accountability activists is actually extremely common in the area. In fact, the wife of a local officer recently made an anti Cop Block/Cop Watch Facebook page called "Police Wives Against Cop Block and Cop Watch."
Post by Eric Canales.
John Vibes is an author, researcher and investigative journalist who takes a special interest in the counter culture and the drug war. In addition to his writing and activist work he is also the owner of a successful music promotion company. In 2013, he became one of the organizers of the Free Your Mind Conference, which features top caliber speakers and whistle-blowers from all over the world. You can contact him and stay connected to his work at his Facebook page. You can find his 65 chapter Book entitled "Alchemy of the Timeless Renaissance" at bookpatch.com.