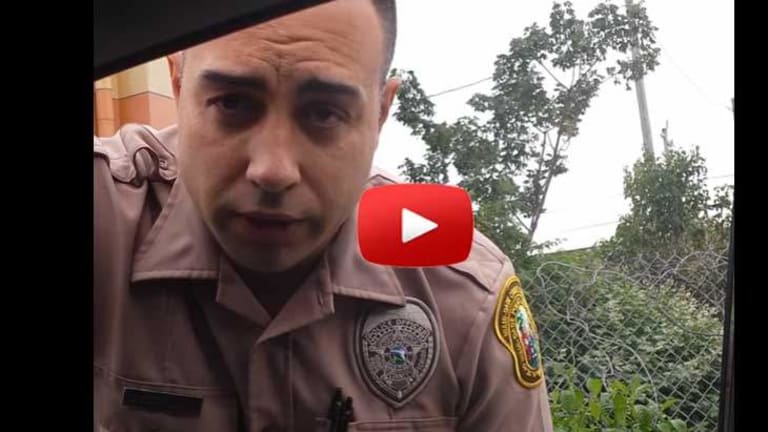 Cop Who Called Tamir Rice a 'Thug' Doxed Woman for Viral Video of Him Speeding
A thug cop on a power trip harasses everyone who gets in his way, even deceased children.
(RT) -- In response to a Florida woman documenting a police officer speeding down Miami's Dolphin Freeway and claiming he was pushing 90, the head of Miami's police union posted her business card and cellphone number online and encouraged people to call her.
In late January, Claudia Castillo pulled over a police officer and accused him of speeding. She filmed the encounter and posted it to YouTube, where it went viral. In response, Miami Police Union President, Lt. Javier Ortiz released photos of her consuming a beer while driving a boat, along with her phone number, and included instructions to call her. He has also Tweeted out various insults and pictures of Castillo.
According to the Miami Herald, Castillo received so many calls at work that she is concerned about her job security. "They sent me home yesterday," the project manager said.

Meanwhile, this behavior is par for the course for Ortiz. Although he has currently taken her contact information off of Facebook, he still has memes posted on his Twitter, along with a range of anti-Islam posts and sentiments against anti-police-brutality protesters.
Ortiz also made the news back in late December 2015 for claiming that Tamir Rice, a 12-year-old who was shot by Cleveland police for playing with a toy gun, was a thug.

Back in August 2015, he criticized Marilyn Smith, a woman who posted a video of Miami police beating a man in handcuffs. Smith claims that police tried to knock her cellphone out of her hands and demanded that she delete the video.
Ortiz responded to the incident in a press release, saying "What is extremely concerning is that the poster of this video (aka Facebook Marilyn Smith) has photographs of her with young men armed with handguns. It seems that no one cares to address this."
He also made public many images taken off of her Facebook page, the Miami New Times reports.
When Ortiz isn't busy encouraging strangers to harass other citizens, he finds the time to be regularly outraged at Islam, frequently retweeting Islamophobic accounts and using the hashtag, #IslamIsTheProblem.