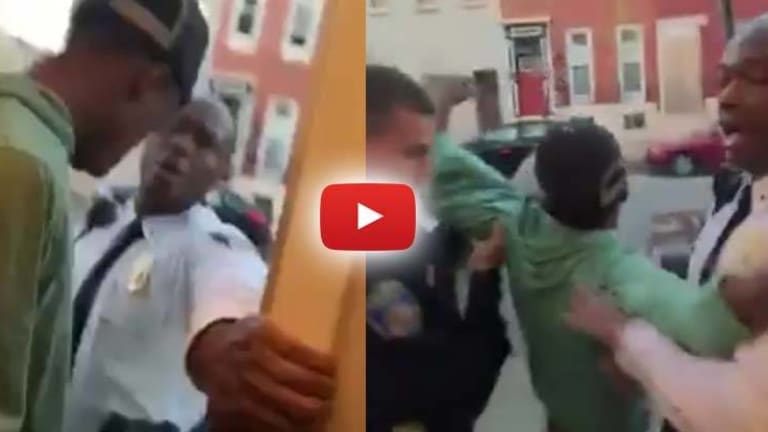 Cop Calls for Backup After Innocent Teens Tell Him He Needs a Warrant, Then All Hell Breaks Loose
An officer became upset after teens refused to let them into their house with no warrant, so he called for backup to violate their rights.
Baltimore, MD - Last week, police claim that they "received calls from the community about issues surrounding activity" with "large numbers of people entering and exiting throughout the day and night" and "possible drug activity." So, they responded by randomly attacking an innocent teenager and his cousin in his own home.
Tionne Jones, the teen who was assaulted and charged by police for no other reason than asserting his rights, was ripped out of the doorway of his own home, thrown to the ground, and arrested.
"All I was doing was knocking on the door to get in the house. I wasn't bothering anyone or nothing," he said.
As the video begins, three young men are standing in the doorway to their own home when a Baltimore cop tried to force his way into the house with no warrant and no probable cause. The young men, all seemingly very aware of their rights told the cop that he has no legal basis for what he is doing.
Instead of realizing his error and moving on, the officer called for backup to have help in his rights-violating expedition. As soon as the other officer showed up, chaos ensued.
Antonio McLaurin, an 18-year-old student at Youth Opportunity Academy who filmed the video, said it shows how police "treat us for nothing."
As McLaurin filmed, the arriving officer getting out of the car runs up to Jones for no reason, grabs him in a headlock and slams him onto the pavement. Just before the aggressive Baltimore cop assaulted him, Jones can be heard on the video saying, "This is my house." The officer then responds, "That don't matter."
McLaurin said he and Jones were both injured in the incident and had to go to the hospital.
"I'm tired of being harassed," McLaurin said. "I'm scared every time I see a cop."
The Baltimore Sun reports, McLaurin's mother, Tawanda McLaurin — a retired Baltimore police officer — said she watched the video and was "very disappointed in Baltimore City" and "ashamed" that she was once part of the same police organization.
"I wore the uniform, I did this job, but I treated people as humans," she said. "I'm hurt. It's hard to describe."
According to the Sun, Baltimore prosecutors, after viewing the video, determined that the entire interaction was unwarranted. It is now under investigation by the Baltimore police department.
T.J. Smith, a police spokesman, said the department's "executive team met to discuss this issue and the circumstances surrounding the arrest," and determined that criminal charges against Jones "were not appropriate in this situation," the Sun reported. It contacted the Baltimore state's attorney's office to share that assessment, while continuing its internal review of the actions of the lieutenant and officer, who were not identified.
McLaurin's mother said that when her son came home, he made a chilling statement. "He said to me, 'This could have been another Freddie Gray incident,'" she said. "You know, as a retired officer, how that made me feel?"