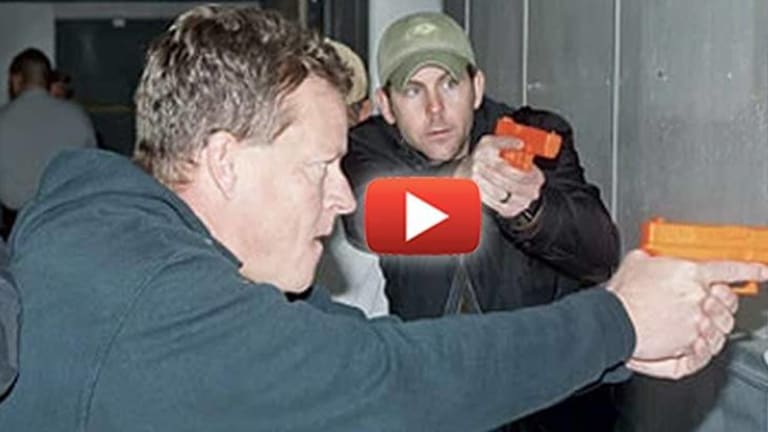 Secret Recording Catches Cop Plotting to Kill "that N****r," and He's Still on the Job
The officer was caught plotting to pull a man over for a routine traffic stop and murder him. The city paid out a tiny settlement and the cop remains on the job.
Alexander City, AL -- An Alabama police officer, Troy Middlebrooks, was captured on audio proposing to murder Vincent Bias and to create false evidence to imply that the killing was done in self-defense.
In an effort to avoid being sued over the officer's statements, the city paid the man $35,000 in an out of court settlement. Middlebrooks can be heard on the audio referring to the man as "that nigger," and said the man "needs a goddamn bullet."
According to a report in The Guardian:
Middlebrooks, 33, made the threatening comments to Bias's brother-in-law during a May 2013 encounter at his home, which Bias was visiting. Police came to the home after they discovered an unleashed dog.

A lawsuit from Bias that the city paid to settle before it reached court stated that while Bias remained inside the house and out of earshot, the officer remarked to Bias's brother-in-law, who is white, that he was tired of "that nigger" being released from jail.

Middlebrooks had arrested Bias on drug charges earlier in the year and Bias had been released on bail after paying a bond, according to Bias and his attorneys.

Middlebrooks expressed his frustration. "Something's going on with that fucking lawyer he knows, and that fucking ... the judge or something," he was recorded saying.

Middlebrooks allegedly went on to say "the police were going to pull [Bias] aside on a routine traffic stop and [Bias] would get killed."
These statements prompted Bias's brother-in-law to retrieve a voice recorder, which Bias had been carrying in an effort to record alleged harassment, and begin recording the conversation with Middlebrooks.
In some of the most telling statements, Middlebrooks can be heard implying that Bias behaves in threatening manner to relatives at times, stating that if he were in the man's position, he would "fucking kill that motherfucker with whatever I had in that fucking house."
"And before the police got here, I'd fucking put marks all over my shit and make it look like he was trying to fucking kill me. I god damn guarantee you," Middlebrooks continued. "What would it look like? Self fucking defense. Fuck that piece of shit. I'm a lot different from a lot of these other folks. I'll fucking tell you what's on my fucking mind."
Alexander police chief Willie Robinson, in typical police apologist fashion, defended his officer's actions.
"He was just talking. He didn't really mean that," Robinson said in an interview with The Guardian. He went on to claim that Middlebrooks "was disciplined, but refused to provide any details. When pressed as to whether his officer was ever suspended over the incident, Robinson refused to answer stating, "He got disciplined," going on to say, "I don't know what other departments do, but I made that call, and I'm going to live with that."
Robinson then tried to claim that Middlebrooks wasn't actually talking about him killing Bias, but was proposing the brother do it, as if that makes the situation less incriminating of the officer's malevolent intentions.
"He wasn't saying that he was going to do that," said the police chief. "He was talking about the man doing it himself."
Bias claimed in his lawsuit that he was the victim of a pattern of ongoing harassment by city police. "This town is ridiculous," Bias, 49, said in an interview. "The police here feel they can do what they want, and often they do."
An attorney for Bias, Eric Hutchins, who also represents the Alabama branch of the NAACP, said the incident "requires and immediate investigation." Hutchins has also sent a letter to the Tallapoosa County district attorney and Alabama attorney general Luther Strange, in which he stated that the officer's statements weren't simply "unprofessional and inappropriate" but could also be classified as criminal offenses.
Sources familiar with the case said investigators for the attorney general had made preliminary inquiries, according to The Guardian.
Precedent set, cops can not only be recorded referring to black people as "niggers," but they can also plot to pull them over and kill them, and they will not face any punishment.
Listen to audio recording below.