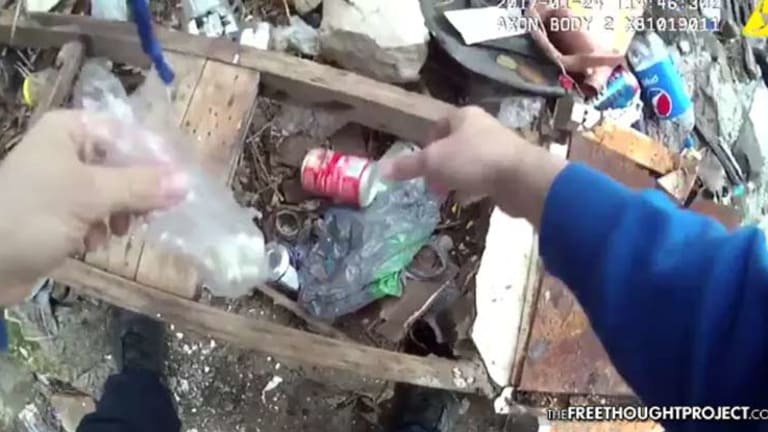 Innocent Man Freed After Cop Seen on Own Body Cam Planting Drugs to Frame Him
A Baltimore cop was captured on his own body camera planting drugs to frame an innocent man who spent six months in jail before this video surfaced.
Baltimore, MD -- It is a common theme among old episodes of COPS — suspects getting arrested over drugs, saying, "those aren't mine." Many times they are lying. However, many times they are not. As a breaking body camera video out of Baltimore appears to show, cops have no problem planting drugs to arrest innocent people.
FOX 45 has obtained body camera footage from a Baltimore police officer that shows him planting a clear baggy of drugs. The 90-second clip also catches his fellow officers standing there in approval as he hides the drugs.
After he's seen planting the fake evidence, the crooked Baltimore cop and his cronies walk out of the alley, at which point he turns on his body camera. However, this corrupt cop apparently had no idea that their new body cameras were programmed to capture the footage 30 seconds prior to activation.
"I'm going to check here," he can be heard saying, as he walks back into the alley in a show for his body camera. Remarkably enough, he knew exactly where the 'drugs' were and was able to find them within seconds.
An innocent man was then kidnapped by these cops, charged with drug possession and thrown in a cage. This video was recorded in January when the man was arrested and his bail was set to $50,000.
The man was unable to pay his bail and rotted in that cage for six months until prosecutors viewed this footage.
As FOX45 reports, the case was scheduled for trial last week. After a public defender reviewed the footage, he contacted the prosecutor in the case.
In an email, the prosecutor says: "I've passed it up and we are all appalled … something is going to happen because of this revelation." Indeed, something is going to happen. The Free Thought Project wants to encourage everyone who's ever been arrested or otherwise cited by these three corrupt cops to go back to the courts and challenge your convictions. No arrests these cops have made can be trusted. After prosecutors viewed the footage, charges were dropped the next day against the man. However, the cop in the video was set to testify in another case, just days later. "They had knowledge. They watched it and were appalled by what was on the video, and then for whatever reason made the choice to continue to call him as a witness," said Public Defender Debbie Katz Levi. Exactly why he wasn't immediately arrested and thrown in jail after being seen on his own body camera planting drugs to frame an innocent man remains a mystery. And now, the Baltimore police department is being tight lipped. "We take allegations like this very seriously and that's why we launched an internal investigation into the accusations. We are fortunate to have Body Worn Cameras which provide a perspective of the events as reported," the department said in their only statement. However, the Baltimore police department is known for their extensive history of corruption, and the chance of this officer facing any consequences is slim to none. One need only look at the case of Freddie Gray to learn how corrupt that system is. What will likely happen — in spite of the man having his charges dropped — is that the department will claim this officer was conducting some sort of demonstration on how to look for drugs. They will likely claim that this demonstration tainted the case and therefore, the man had to be released. The Free Thought Project has reached out to the Baltimore police department but we have not heard back. FOX 45 reports that the department would not say whether or not the drug planting cop was on active duty while their investigation is underway. This is what 'policing' in America looks like.