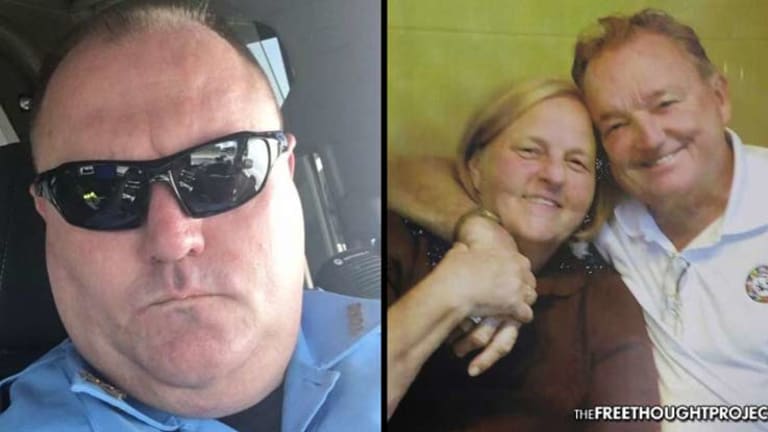 Cop Caught on Own Body Cam Stealing Dying Elderly Man's Christmas Money
Police have confirmed that a Texas cop was seen on his own body cam reaching into a dying man's pocket and stealing his Christmas money.
TEXAS CITY, Texas (CN) – A widow claims in court that a former Texas City police officer found her husband unconscious on the side of the road with more than $2,000 in cash meant for Christmas gifts and stole the money, just before the man died.
Linda Mabe sued Texas City and former police officer Linnard Crouch Jr. in Galveston federal court Wednesday, claiming Crouch stole $2,400 in cash from her husband, James Mabe, while he was incapacitated on the side of the road.
Instead of returning the full amount, Crouch gave Mabe less than $300 in a "stack of $1.00 bills that James kept in the center console of the truck he drove," according to the complaint.
"Some people would call that theft," Linda's attorney Randall Kallinen said during a press conference Thursday. "Many would call that theft."
Linda's husband was robbed by Crouch, victimized by someone who was supposed to protect and serve the public, she said during the press conference.
Crouch resigned from his position as a Texas City police officer on Jan. 30, according to a press release issued by the police department on Thursday.
"Mr. Crouch is facing criminal charges of theft and possession of a controlled substance," the press release states. "These charges have been presented to the Galveston County District Attorney's Office and will be presented to a grand jury upon completion of the investigation."
The police department declined to give any additional details in the press release, citing the ongoing investigation.
Kallinen said that if the Texas City Police Department had taken more decisive action after several infractions, the incident involving Mabe and Crouch would not have occurred.
He also suggested that the Texas City District Attorney's Office could face repercussions for corruption if they had failed to correct Crouch's actions after repeated infractions.
On Dec. 19, 2016, Linda gave her husband the money to buy Christmas presents for the family, according to the complaint.
"Linda and James loved the Christmas Season with the family tradition for more than 45 years being that Linda and James would host a huge Christmas meal followed by the exchange and opening of Christmas gifts," the lawsuit states.
Mabe didn't complete the trip and stopped on the side of the road when he "felt that something was wrong physically," according to the complaint.
Texas City police received a call about the vehicle and sent Crouch to investigate.
"After opening James' locked truck door, Officer Crouch then reached into James' right front pocket and removed James' $2,400 in Christmas present money and other money," the complaint states. "Officer Crouch never reported the $2,400 and other money [and] instead gave back less than $300."
A police department memo from January corroborates Linda's allegations.
"I have reviewed Officer Crouch's body camera video and have observed Officer Crouch to have removed money from Mr. Mabe's right front pocket he appears not to have reported," according to the memo written by Assistant Chief Joe Stanton to Police Chief Robert Burby.
Crouch was suspended last year prior to the incident described in the lawsuit after several complaints were filed against him, dating back to 2011.
The former officer failed to complete incident reports, left information out of other completed reports and failed to wear his body camera at all times while on duty, according to a 68-page notice of suspension and a list of official complaints included as an exhibit with the plaintiff's lawsuit.
Notices from the list characterized Crouch pattern of actions as "dereliction" and "neglect of duty," but he didn't resign until after the Mabe incident.
After emergency services were called, Mabe was taken to a local emergency room where he died later that evening, according to the complaint. His family says his heart failed.
Crouch met with Linda and her son, Michael Mabe, at the emergency room to return James' personal belongings, the complaint states.
He handed them a baggie with a few hundred dollars inside and allegedly told them that the money was the only personal possession he had found on James.
According to the complaint, Crouch had also breached protocol by giving Linda and Michael the money directly instead of the usual documenting of property by the police department's inventory process.
"fell upon deaf ears and no money was returned."
Michael said during Thursday's press conference that the police department and district attorney did not believe that Crouch had taken his family's money.
He said he didn't find out about the department's memo acknowledging the video proof of theft until he requested documents from the department.
When asked who he blames for the incident, Michael said there was "more than enough anger to go around."
He said that in addition to seeking justice for his mother, he wants to help ensure that "this doesn't happen to someone else" after seeing his mother's "day-to-day struggle" since the incident in December.
Michael also indicated that his mother's lawsuit was filed to focus on the alleged crimes committed, rather than reimbursement of the $2,400.
"The Mabe family's Christmas, made so sad by James' death, was shocking and appalling due to the theft or taking by a police officer of the Mabe's Christmas money," the lawsuit states.
Linda Mabe seeks punitive damages against Texas City and Crouch for alleged Fourth Amendment and due-process violations. Her attorney, Kallinen, is based in Houston.
Crouch could not be reached for comment.