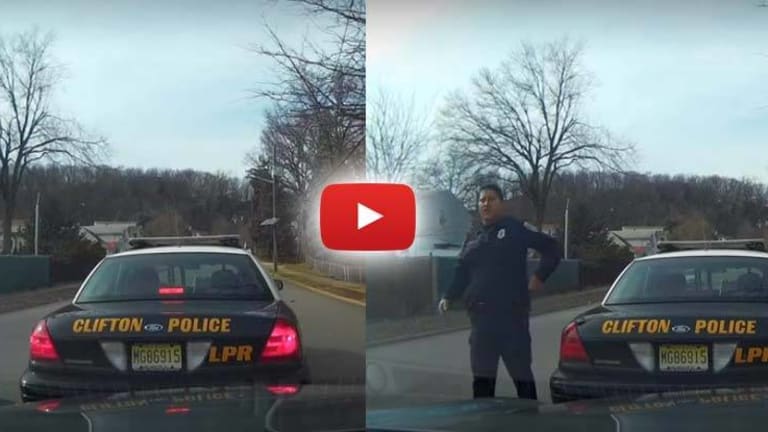 Cop Caught on Citizen Dashcam Dangerously Trying to Cause an Accident So He Could Write Tickets
A New Jersey cop was caught on a private dashcam attempting to cause an accident and injure a motorist by 'brake checking' -- just to write tickets.
Clifton, NJ -- A New Jersey cop was caught on the private dashcam of a citizen conducting a dangerous and unethical practice of 'brake checking' to extract revenue from citizens.
In the video, which was posted to YouTube, a man is doing nothing wrong as he's driving down the road behind a police officer. All of the sudden, the officer slams on his brakes in an apparent attempt to cause an accident. Had the driver not been paying attention, he would have hit the officer, who was unlawfully obstructing the flow of traffic.
Instead of apologizing to the driver for nearly causing an accident, this power tripping cop began to harass and extort him.
The New Jersey police department would not give up the name of the officer. However, public records identify him as Juan Velez, who has been working with the Clifton Police Department since 2005 and makes a whopping annual salary of $119,558.
This cop gets a six figure income to drive dangerously and extort innocent motorists for non-crimes.
"How close are you going to drive behind me?" Velez asks after jumping out of his car in the middle of the road.
"I was like a car length away," the driver tells the officer, noting that he'd done nothing wrong.
Officer Velez then attempts to imply that he was forced to slam on his brakes by ignorantly saying, "I braked cause I thought you were gonna run into me."
If the officer genuinely felt that he was going to be rear-ended, then braking would have been the absolute worst move to make. If he wasn't lying, and felt that an accident was about to take place, he should have sped up to increase the distance between his car and the car behind him.
But there was never a chance of a crash, and officer Velez, who makes six figures annually for extorting the citizens of Clifton, knows this. His brake check was carried out for the sole purpose of extracting revenue from a victim. And that is exactly what he did.
At the end of the stop, Officer Velez issues the driver three citations demanding payment of hundreds of dollars for victimless crimes: One for lack of a front license plate, one for tailgating and the third for tinted windows.
"This cop could have hurt me, himself and anyone else who was behind me that couldn't stop in time," said the driver.
Since the video began to go viral, angry citizens have taken to social media and flooded the Clifton Police Department Facebook page looking for a response.
"So, what are you going to do about Officer Velez attempting to injure a civilian motorist as punishment for driving too close to his squad car?" wrote one commenter.
The answer to that question is likely, 'nothing.'
However, Clifton Police Department spokesperson Detective Sgt. Robert Bracken assures the public that the matter is being investigated by the department's Internal Affairs officers.
"The Clifton Police Department is aware of the incident," Bracken told NJ Advance Media on Friday. "Internal Affairs matters are confidential, therefore, we will not be commenting on the incident at this time."
[author title="" image="https://tftpstagingstg.wpengine.com/wp-content/uploads/2016/03/magorist-e1456948757204.jpg"]Matt Agorist is an honorably discharged veteran of the USMC and former intelligence operator directly tasked by the NSA. This prior experience gives him unique insight into the world of government corruption and the American police state. Agorist has been an independent journalist for over a decade and has been featured on mainstream networks around the world. Follow @MattAgorist[/author]