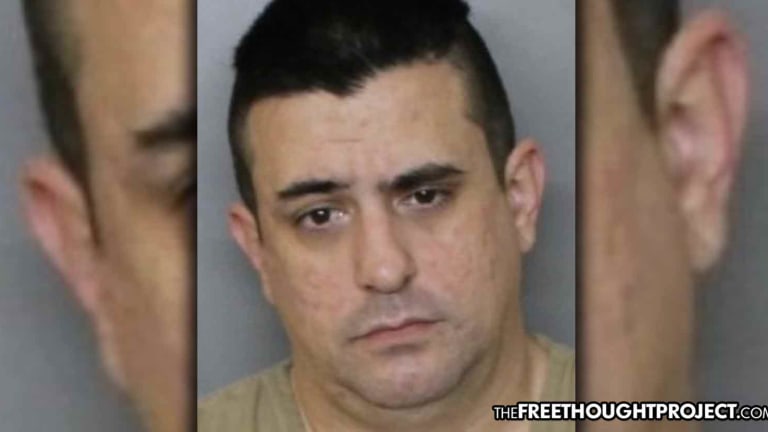 Cop Caught In The Act, On-Duty Attempting Sex with a Child and He Is Still on the Job
Despite being caught red-handed soliciting a child for sexual relations — while on duty — a Florida cop has yet to be fired.
Charlotte County, FL — Charlotte County Deputy Marty Allen, 41, was arrested on Sunday after he was caught in the act of soliciting a child for sexual relations. Today is Wednesday, and Allen is still employed with the department.
According to police, a concerned citizen was posing as a 15-year-old girl in a make-shift vigilante child predator sting. The conversations stayed online until that citizen found out that the person he was chatting with was a CCSO deputy and then turned over the records to police. On February 10, deputies inside Allen's own department took over the sting.
According to police, they were able to get Allen to agree to meet with the fictional 15-year-old girl and he was arrested on Sunday during that meeting.
"Deputy Allen has broken his oath and that sacred trust that is expected as a law enforcement officer, instead, choosing to prey upon those he swore to serve and protect. This cannot and will not be tolerated," stated Sheriff Bill Prummell in a press conference this week.
Prummell described the deputy's actions in detail and noted that he was on the taxpayer's dime when much of it took place.
"Much of these conversations were determined to have occurred while Allen was on duty," he said.
During these conversations, the deputy would steer them toward a sexual subject matter.
"While the investigator was chatting with Allen, Allen's conversation became sexual in nature; to sleeping nude together, to taking showers, or giving massages," Prummell said during the press conference.
Allen would ask then child for nude photos of her in the shower. He even asked her to move in with him.
"Allen went so far as to ask if the 15-year-old girl would move in with him at his residence," Prummell said in the video posted to the CCSO Facebook page.
"A meeting was set up with Allen to meet the 15-year-old girl, at which point he did drive to that location," Prummell said. "He was later taken into custody by detectives."
The investigation is ongoing, but there is no evidence there are other victims, Prummell added.
According to police, Allen was suspended, but not fired.
The person who originally launched this sting is likely part of an organization like we have reported on before, with folks who pretend to be children to catch child predators. It turns out that the predator they caught this time happened to be a cop.
The fact that Allen has not yet been fired speaks to the nature of police job security. Imagine another job at which someone would be caught in the act attempting to have sexual relations with a child — while at work — and not be fired immediately. It would not happen.
However, this is the second Florida cop in just two months who has been caught in one of these undercover stings by a vigilante group.
In December, a vigilante group known as Waits List caught a cop at an elementary school, identified in the video as "Alan Reese."
Nathan Waits, president of 'Waits List', actually confronted Reese at his school job, and asked him why he was having sexual conversations with a 14-year-old girl.
Waits claims his organization shared messages from the officer with a Clay County Sheriff's Office detective in October, but never heard back — unlike the cops with the CCSO.
After police failed to act, Waits decided to confront the alleged pedophile cop on his own.
Only after the video began to garner views online did police respond. The Clay County School District Police Department, and the Clay County Sheriff's Office (CCSO), told Action News Jax they're now investigating the allegations.
There has been absolutely no mention of punishment, suspension, charges, or any other discipline for this officer since the incident happened in December.