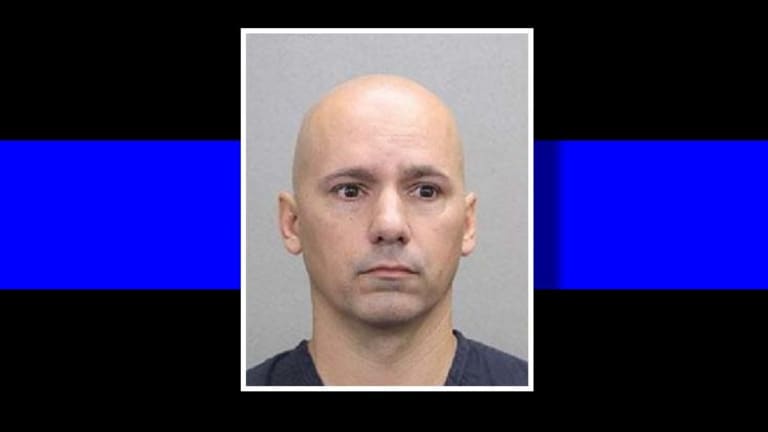 Child Task Force Cop Caught Viewing Child Porn at Work, Molesting and Stalking Kids -- 29 Times!
A Cop who worked on a task force targeting pedophiles has been arrested and charged with 29 counts of child porn and sexual assault.
Ft. Lauderdale, FL -- Children might be a little safer now that a Broward County Sheriff's Sergeant has been arrested on 29 counts ranging from child porn to sexual assault to child molestation — a number of which occurred while the officer was on the job.
"Today, detectives with our public corruption unit arrested Sgt. Kreg Costa on a multitude of child pornography charges," announced BSO Sheriff Scott Israel on Thursday, according to7News.
Sgt. Kreg Costa faces a litany of disturbing charges including, as 7News cited the arrest form, "seven counts of using a child in a sexual performance, 12 counts of possession of child pornography, four counts of lewd and lascivious conduct, one count of sexual assault, four counts of soliciting or enticing a child using a computer, and one count of transmitting information harmful to a child."
Costa had been caught by his colleagues on multiple occasions late at night in his office with the lights off, and uniform and gun belt removed, as several outlets reported. Despite being reprimanded, Costa continued with the same behavior, though there is no indication whether or not his colleagues were aware of the nature or content of what the sergeant was up to.
"Upon being advised of what was being observed, we became proactive on our employee in efforts to reveal exactly what was going on during his shift," said BSO Internal Affairs Maj. Angelo Cedeno.
After internal affairs bugged Costa's computer and installed several concealed surveillance cameras, they discovered the disgusting extent of his criminal behavior.
Costa employed social media platforms as he hunted for young girls, and successfully began cultivating trust with a 15-year-old from California. Detectives said Costa told the girl he was a family man in his 40s.
Excerpts from the officer's instant message conversation with the young girl read:
"CallMeSir34: Does Princess love her daddy" to which the victim responded, "Babygirl: Yes daddy! Babygirl loves you very much."
And another: "Babygirl: Babygirl is sorry, but she is tired and has school tomorrow" to which the predator replied, "CallMeSir34: It's OK … didn't you like the pic?"
'That pic,' say investigators, was Costa's erect penis.
During their probe into Costa's activities, internal affairs found nude pictures of that girl, whom they said maintains a 4.0 GPA, attends church, and trusted Costa, as well as other minor females — over 150 photos in total.
Costa was suspended without pay for conduct unbecoming an officer on April 25 after the investigation concluded.
"If these allegations are true, this behavior is reprehensible and actually disgusting," Israel had stated on May 13, explaining, "Our detectives will do everything in their power to fact find and make sure justice is served."
Perhaps one of the most concerning aspects at stake, Costa — a 17-year law enforcement veteran — had been a part of the Internet Crimes Against Children Task Force.
"It was illegal," Israel said during a press conference, according to 7News. "He was immoral. He tarnished the badge, and we'll investigate and move forward."
Neighbors of the alleged pedophile claimed, of course, Costa and his wife were 'nice' people and would never suspect something this untoward going on behind closed doors.
James Benjamin, Costa's attorney, emphasized his client remains innocent in the eyes of the law until and if he's proven guilty in court.
"It's very disappointing," Israel added, "and I feel for the victim[s] and I feel for the families, and the facts speak for themselves."
Costa is expected to face a judge today.