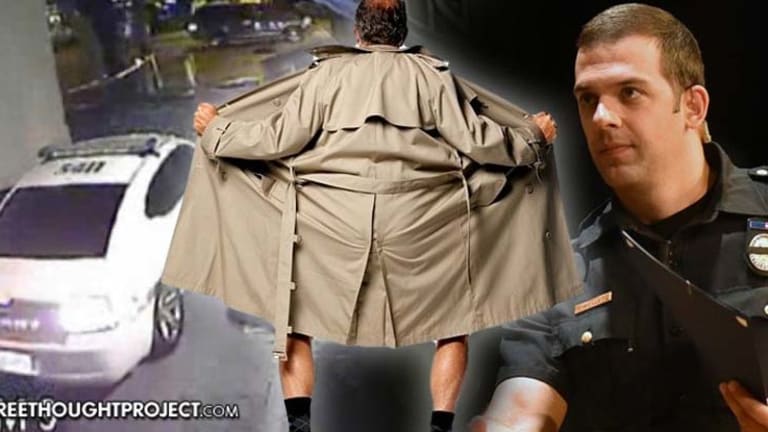 Cop Caught Chasing After Women While Publicly Masturbating -- Said He Had to Do It to Stay Awake
Fret not citizens, he was masturbating to keep us safe.
Bethlehem, PA -- Killing a man by tasering him to death while in handcuffs won't get you charged as a law enforcement officer. However, whipping out your penis and masturbating will, as a Pennsylvania cop is quickly learning.
Bethlehem police officer Glenn C. Woolard is now backpedaling, claiming that the multiple instances of women reporting his public masturbation -- next to them -- were just a big misunderstanding.
Woolard, 35, allegedly confessed to state police during an interview Friday that he was masturbating in his parked car in a parking lot on North Krocks Road in Lower Macgunie Township Sept. 27, according to a criminal complaint.
During the same interview, he also confessed to masturbating again a week later, this time, while driving down the road.
When fellow cops began their investigation into Woolard for the allegations of flashing women his privates while masturbating, the decorated cop quickly denied it. However, he eventually cracked under pressure and explained that "his intent of masturbating in his vehicle was not for sexual gratification or to showcase his genitals, but rather to stimulate himself and stay awake while driving home from work," according to NBC Philadelphia.
Fret not citizens, he was masturbating to keep us safe.
Since he violated Pennsylvania's Penal Code, Woolard has only been charged with two counts of indecent exposure -- in spite of the women claiming he actually pursued them to show them his package.
The first woman, who reported Woolard masturbating in the parking lot of a Dick's Sporting Goods (of all places), said that he pulled next to her as she walked to her car. Upon review of the surveillance footage, investigators indeed saw that Woolard sought out an audience with the woman and stalked her as she walked.
A similar situation arose with the second woman who claimed she was driving her work truck when he pulled up next to her with his penis in his hand on October 5. When she tried to drive away, he continued to stalk her -- all the while masturbating.
Luckily, the second woman was able to write down his license plate and reported the cop with his penis in his hand to his fellow cops.
Woolard is a decorated officer, who's served on the force since 2013. Prior to being a cop, Woolard was drafted by the San Francisco Giants in the 2002 Major Leagues Amateur Draft, according to MiLB.com.
He would later join the Army, where he would serve 5 years.
Since the 'incidents,' Woolard has been placed on paid vacation by the department, pending further disciplinary action.
Not surprisingly, public masturbation by police is fairly common.
While walking down the sidewalk in September of 2015, a vigilant citizen pulled out her cellphone and took photos of a perverted police sergeant exposing himself while harassing her. Instead of remaining silent and accepting his abuse, the 39-year-old woman notified the police and showed them the vulgar photographs. A few days after the sergeant was arrested.
In March of 2015, a police officer in Memphis was placed on suspension after a 14-year-old girl accused him of masturbating in his patrol car -- as he gave the child a ride to school.
Before that, Kevin Fant, a Philadelphia Transit Police Officer was caught masturbating on the subway train that he was assigned to patrol. Fant was off-duty at the time, but he was likely so comfortable in this environment because it was a place that he had authority.
[author title="" image="https://tftpstagingstg.wpengine.com/wp-content/uploads/2016/03/magorist-e1456948757204.jpg"]Matt Agorist is an honorably discharged veteran of the USMC and former intelligence operator directly tasked by the NSA. This prior experience gives him unique insight into the world of government corruption and the American police state. Agorist has been an independent journalist for over a decade and has been featured on mainstream networks around the world. Follow @MattAgorist on Twitter and now on Steemit[/author]