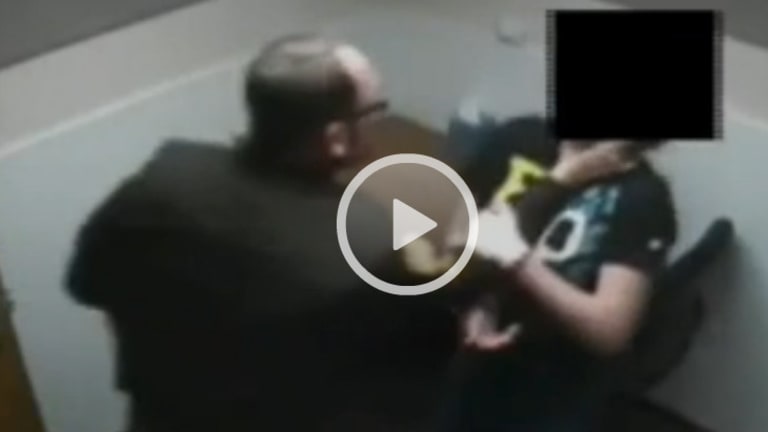 Cop Caught on Video Attacking Defenseless Handcuffed Girl is Suing the City for Lost Pay
"You're going to find out what a world of hurt really is."
Bozeman, MT -- An unsettling surveillance video of a Gallatin County Sheriff's Deputy assaulting a 17-year-old handcuffed girl was made public Wednesday.
The video was released by order of a Gallatin County District Court Judge, Mike Salvagni, after a local news agency filed a request for it several months ago.
The incident took place in 2011.
The victim in the video is a 17-year-old girl whose identity has not been revealed. The assailant is Deputy Thomas Madsen, who quit his job shortly after this incident.
According to court documents the girl had turned off the lights in the room so she could go to sleep. The footage picks up right after the lights were turned back on.
The video starts out with the pair exchanging a few words.
Right before Madsen assaults the girl, he is heard saying, "...push yourself around, you're going to find out what a world of hurt really is."
The video was thrown out of court in this case and the charges dismissed against Madsen by Judge Holly Brown, because the video had been edited.
No matter what "editing" happened, we can clearly see a handcuffed girl, half the size of Madsen, being violent chocked and thrown against the wall. Had any assault on the officer occurred by the teen prior to this point, you can rest assured that we would have seen it.
According to KRTV, Gallatin County Attorney Marty Lambert explained his reaction to the video being shown to the public.
"Well, the video shows an unprovoked attack on a defenseless girl," said Lambert. "The public can draw its own conclusions about what occurred but I think now the public will understand why the sheriff and I had the concerns that we had about this particular case."
Al Avignone, defense attorney for Madsen, says the video has been edited and only tells part of the story.
"In the United States of America we judge people on the whole story like we should," Avignone said. "The entire story is not on those five minutes. So the public is not seeing the entire story."
Eventually prosecutors reached a deal with Madsen on a lesser charge. He pleaded no contest to a misdemeanor charge of assaulting a police officer. He received a 60-day deferred sentence. Prosecutors had asked for the maximum penalty, six months behind bars.
As part of the plea deal which Madsen struck with the city the case has been sealed and his record wiped clean in regards to the case.
In a twisted move, Madsen filed a lawsuit against the city earlier this year. He is seeking monetary damages for lost pay and not receiving adequate treatment for job-related mental health issues.