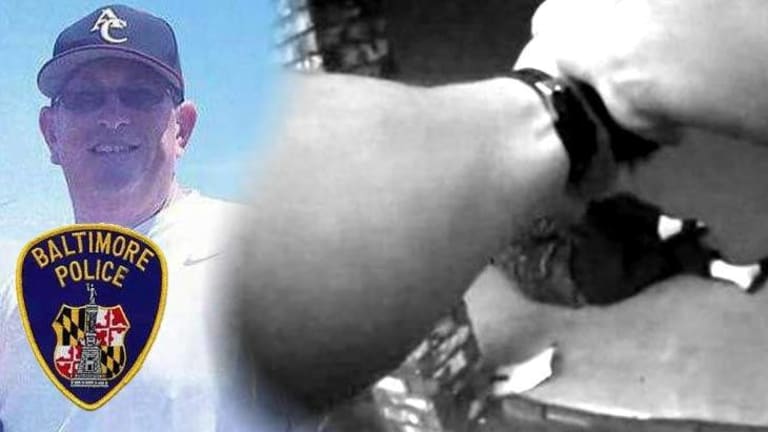 2 Cops Shoot Unarmed Man, Third Cop Stands Over his Bleeding Body, Shoots Him in the Groin
"A .40 Caliber, you piece of sh*t." A Baltimore Cop has been charged with attempted murder for shooting an unarmed man after his partners had already shot him.

Baltimore, MD -- A Baltimore police officer was charged with multiple counts of attempted murder and assault on Wednesday for shooting an unarmed robbery suspect who had already been shot by two other officers.
After the suspect collapsed from multiple gunshot wounds, Officer Wesley Cagle stood over the unarmed man and shot him in the groin. Although the suspect did not have a weapon, the initial two cops who shot him are not facing charges because they claim he had been reaching toward his waist.
Around 4:30 a.m. on December 28, Baltimore police officers Wesley Cagle, Dancy Debrosse, Keven Leary, and Isiah Smith responded to a report of a burglary in progress. While the other officers took up positions on the side and rear of the corner grocery store, Debrosse reported looking through the front door and seeing a masked man inside standing near the cash register. As the masked man stepped towards a side door, officers Leary and Smith confronted him.
According to State's Attorney Marilyn Mosby, the officers ordered 46-year-old Michael Johansen to show his hands. Fearing for their safety, officers Leary and Smith claim that Johansen was reaching toward his waist when they opened fire on him. After being struck with multiple bullets, Johansen collapsed onto the floor with his upper body inside the store and his feet on the outside steps.
As Leary and Smith covered Johansen with their service weapons still aimed at him, Cagle walked in and stood over him with his gun drawn. Johansen looked up and asked, "What did you shoot me with, a beanbag?"
Cagle responded, "No, a .40-caliber, you piece of shit," before shooting him in the groin.
"Johansen was no longer considered a potential threat, as witnesses did not see Johansen make any aggressive or threatening movements," State's Attorney Mosby asserted.
Although the other officers justified shooting Johansen because they believed he was holding a "shiny object" and reaching for his waist, no weapon was found at the scene. After receiving medical attention at a local hospital for his gunshot wounds, Johansen was charged with second-degree burglary, fourth-degree burglary, and theft of less than $1,000. His trial is scheduled for September 9.
After conducting an investigation into the shooting, Mosby determined that officers Leary and Smith were justified in shooting Johansen even though he had been unarmed. Cagle was placed on administrative leave following the shooting, and his police powers were suspended in January. On Wednesday, Cagle was charged with attempted first-degree murder, attempted second-degree murder, first-degree assault, second-degree assault, and use of a handgun in a crime of violence. He was taken into custody later that day.
If convicted of attempted first-degree murder, Cagle could face life in prison. The attempted second-degree murder charge carries a maximum sentence of 30 years. He could face up to 25 years for the first-degree assault charge, 10 years for second-degree assault, and 20 years for using a handgun in a crime of violence.
Cagle is the first Baltimore police officer criminally charged in an on-duty shooting since Officer Tommy Sanders killed an unarmed man in 2008. Sanders faced voluntary and involuntary manslaughter charges for shooting 27-year-old Edward Hunt twice in the back. Although witnesses testified that Hunt had not assaulted the officer and did not reach for his pocket while running away, a jury acquitted Sanders in June 2010.