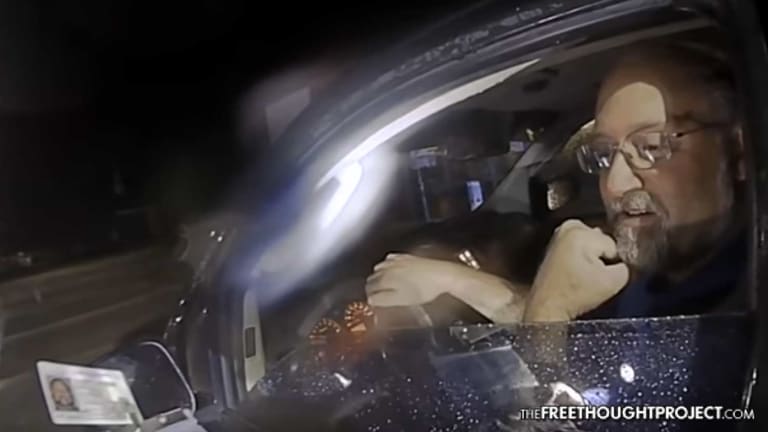 WATCH: Body Cam Catches Cop Try to Fabricate Charges Against a Man for Knowing His Rights
A police officer is facing charges of battery and cruelty to children—but this body cam footage shows why he likely beat children.
A police officer in Effingham County, Georgia, was arrested and is now facing charges of battery and cruelty to children after the Sheriff's Department was called to his home around 4:30 a.m. to investigate claims of a domestic dispute—but this is not the first time he has been accused of abuse.
Officer Dakota Fields, 38, of the Rincon Police Department has been charged with 3rd degree cruelty to children and simple battery (family violence act). Another woman at the scene, April Bonaccorsi, 33, has been charged with 1st degree felony cruelty to children and simple battery (family violence act).
The couple was arrested at 4:30 a.m. on the morning of Nov. 2. Details about the abuse charges have not yet been made available, and with the exception of the mugshots that were taken of Fields and Bonaccorsi, no further information about his arrest, the charges, or his trial date have been made public.
News of Fields' arrest comes as no surprise to several Rincon citizens who say they have constantly been harassed by the officer they say was on a power trip. Take for instance Matthew Spaccarelli's recent ">traffic stop during which Fields was the officer who pulled him over.
Spaccarelli was driving home recently, unaware there was a curfew in Rincon because of an approaching hurricane. He was the only driver on the road, besides Fields, of course. Spaccarelli must have seen a car speeding up behind him, so instead of slowing down, he simply pulled into the local O'reilly's Auto Parts store.
Fields did not turn on his lights until after Spaccarelli turned into the parking lot. After pulling him over, Fields told the driver he pulled him over for failing to maintain his lane -- a clearly bogus charge as the dashcam shows. But after Spaccarelli told Fields he was going home, Fields started asking strange questions.
"Do you live at O'Reilly's?" Fields asked multiple times.
The driver was not amused by the sarcasm and refused to answer the obvious question. In the eyes of many who watched the video and commented on Spaccarelli's YouTube channel, Fields was being a jerk.
Fed up with Fields' nonsense, Spaccarelli told him to just give him a ticket and allow him to be on his way. The Rincon officer wanted to charge him with being out past curfew, but after quick call to the police chief, Shields was told to not ticket the driver for breaking curfew -- because, according to Spaccarelli, there was no curfew.
Instead of letting Spaccarrelli go on his way without a ticket, Fields seemingly racked his brain, trying to think of any charges he could place on the driver. "What can we charge him with?" he asked his fellow officer who many in the community have concluded represents a police force more interested in revenue generation and harassment than keeping the peace.
The upset driver attempted to tell the officer he was well within his legal rights to change lanes, given the fact that there were no people on the road, but Fields just handed him his ticket and refused to further discuss the matter.
Another resident described a similar story of harassment. He said his car broke down, and he was able to park it in a church parking lot until he could get it repaired. His mother was concerned and drove down to the church to check on him. He said Officer Fields arrived at the scene, but instead of helping the resident, he proceeded to harass both him and his mother:
"Fields is a dick! He was the same way with my mother and had threatened to arrest her because she stopped at that church next to oriellys to check up on me. I was driving home in my car that was having engine problems. So she wanted to check up on me. Threatened to arrest her for attempted burglary because of where she stopped. I hope he rots."
Dakota Fields was reportedly fired from the Rincon Police Department after his latest arrest. What we at TFTP have witnessed is that if we do not bring attention to these stories, officers such as Fields—who clearly abuse their titles, both on the job and at home—are simply rehired to harass and intimidate the public once more.
https://m.youtube.com/watch?v=juztidV6Ip4&feature=youtu.be