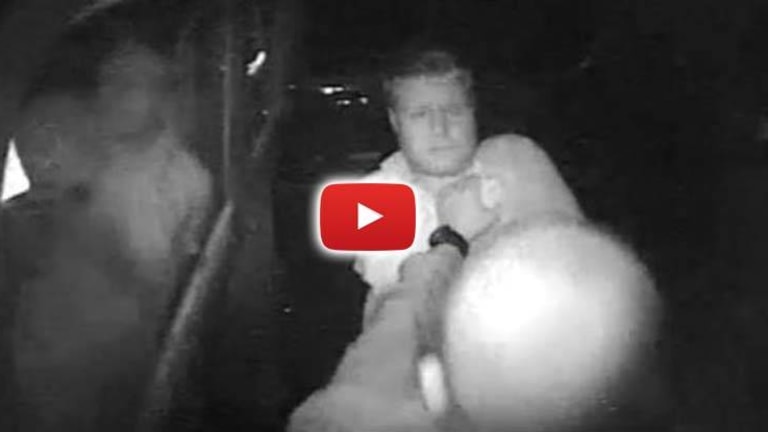 Cop Charged With Battery After Video Showed Him Smashing In Handcuffed Man's Face
Caught on two separate police videos punching a handcuffed suspect in the face, a deputy has recently been charged with battery.
Seminole County, FL – Caught on video threatening to kill a handcuffed man before punching him in the face, a Florida sheriff's deputy lost his job and has recently been charged with battery. Although the handcuffed man did not file a complaint, prosecutors decided to press charges against the former deputy after reviewing two videos of the incident.
On January 12, Jonathan Lynch had been hiding under a backyard Jacuzzi when Seminole County deputies placed him under arrest for domestic abuse. A video camera inside the patrol vehicle recorded Lynch repeatedly asking Deputy Michael O'Connor for water.
"Where's the water at?" Lynch asks.
"Chill out," O'Connor tells him.
"Where?" Lynch asks again before kicking the patrol car's door. "Well, get me water then, motherfucker."
O'Connor suddenly grabs Lynch by the front of his shirt and whispers to him, "Chill the fuck out! I'm going to fucking kill you right now, you understand?"
"Where's the water at?" Lynch pleads with him. "I want water."
Instead of giving Lynch some water, O'Connor can be seen on surveillance video and dash cam video pushing the handcuffed suspect in the face before entering the backseat of the police cruiser and punching Lynch in the jaw. Although Lynch did not file a complaint, a prosecutor with the state attorney's office asked to see the video while investigating allegations of resisting arrest.
Discovering video evidence of O'Connor threatening to murder a handcuffed suspect and punching him in the face, the prosecutor launched an investigation into the violent deputy. On March 24, O'Connor submitted his resignation amid allegations of abuse. He currently faces a misdemeanor charge of battery for punching Lynch.
"We have a strong and long-standing relationship with the community we serve, and my commitment is to always be transparent with, and accountable to, our residents," stated Seminole County Sheriff Donald Eslinger. "O'Connor's actions were not just a violation of policy and law, they were also contrary to our agency's core values. His behavior was completely inappropriate and totally inconsistent with what is expected of a deputy sheriff at our agency."
According to Sheriff Eslinger, O'Connor had previously been suspended for 30 days without pay in August for verbally abusing a domestic violence victim. He had been employed by the Seminole County Sheriff's Office since October 2013.
Although the state attorney's office declined to file domestic abuse charges against Lynch, he remained in jail due to a probation violation. Given the choice between punching Lynch and offering the handcuffed man a cup of water, O'Connor chose to take out his aggression on someone who could not retaliate against him.
One cannot teach a hammer to love a nail.
[author title="" image="https://"]Andrew Emett is a Los Angeles-based reporter exposing political and corporate corruption. His interests include national security, corporate abuse, and holding government officials accountable. Andrew's work has appeared on Raw Story, Alternet, Activist Post, and many other sites. You can follow him on Twitter @AndrewEmett and on Facebook at Andrew Emett.[/author]