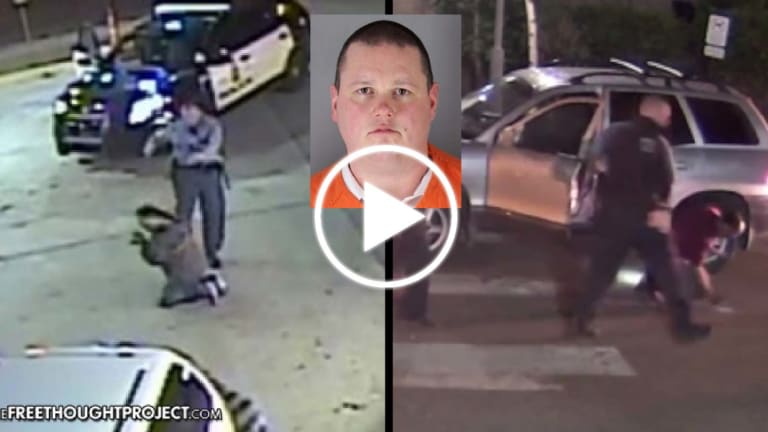 Cop Finally Charged After He's Caught on Video TWICE Kicking People on Their Knees
A Minneapolis cop was charged with felonious assault and battery for kicking a man as he was trying to surrender — AGAIN.
A violent cop is off the streets (for now) after being caught on video kicking a surrendering man, who was not resisting at all, in the face. To illustrate just how terrible police accountability actually is in this country — this was the officer's second time being caught on video kicking a non-violent person.
According to the NY Daily News, "An ex-Minneapolis cop was charged in a brutal kicking assault that left a 35-year-old man with a traumatic brain injury, and a video of the assault contradicts his narrative of what happened." Christopher Reiter, while responding to a domestic assault call, kicked Mohammed Osman in the head, breaking his nose and reportedly causing traumatic brain injury.
Karate kicks and offensive strikes using any part of the foot or lower leg to attack an opponent are sometimes justified in the line of duty to subdue an unruly suspect. But in Osman's case, Officer Reiter cannot say the suspect was fighting with him or even attempting to flee. Osman, upon seeing a gaggle of cops headed his way, with guns drawn, simply dropped to the ground on all fours, on his hands and knees, and waited for the officers to arrest him. It was in that very vulnerable, indefensible position, that officer Reiter chose to deliver a knockout Karate kick to the domestic violence suspect's head.
The Star Tribune reports Reiter has been charged with a 3rd-degree felony for kicking the downed man. While the attack happened May 30th, 2016, it wasn't until March 15th of 2017 that the officer was charged with the heinous crime.
Fellow officer Josh Domek was also on the scene. "In reports they filed after the incident, Domek wrote that as he approached Osman, he ordered him to get on the ground. Domek then wrote that he moved toward Osman 'In an effort to push him to the ground to get him in handcuff position. While doing so, I felt resistance from the male, causing me to believe that he was going to attempt to fight as he had just been involved in a violent assault,'" writes the Tribune.
While Domek made no mention of his partner's assault on the suspect, Reiter did admit to kicking the man. According to the Tribune, "In his report, Reiter said when the other officers ordered Osman out of the vehicle, 'I could see [Osman] pushing off the ground...I made a split second decision and kicked [Osman] in the face one time with the top flat part of my boot.' The video does not show Osman either resisting or pushing off the ground. He was lying.
Oddly enough, it wasn't this kick that cost him his job. Reiter was fired in January of 2017, on an unspecified matter.
County Attorney Mike Freeman charged Reiter, not Domek, and said, "in this case, a kick to the face is a use of deadly force, and simply not justified." For the county attorney to call the attack a use of "deadly force" is for him to realize how brutal such a cowardly and utterly indefensible act it was to kick his downed suspect.
Hopefully, the punishment fits the crime and a jury will convict the police officer of the felonious attack on his fellow citizen. Potentially, a conviction in the case could serve as a much-needed social justice reform of modern-day policing in the U.S. Until then, young police officers should familiarize themselves with Rodney King's case, know that it's not okay to kick someone, even someone suspected of beating up his significant other, just because you feel like it. That's the reason why we have a justice system in the first place, to punish evil doers like Reiter.