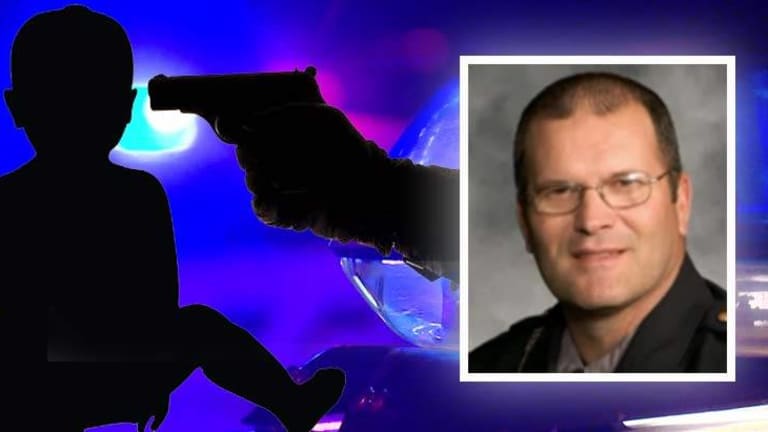 Cop Charged for Pointing Gun at Infant Grandchild "For the Purpose of Threatening and Intimidating"
An Oklahoma cop is on paid vacation after he pointed a gun at his infant grandchild.
Oklahoma City, OK -- Veteran of the Oklahoma City police department for 12 years, Sgt. Cecil Moss, was charged on Friday with "pointing a firearm at another. "
According to the charges, Cecil Moss "willfully, knowingly, and without lawful cause, pointed a firearm at Kurt Ward, Paulette Henson" and a child "for the purpose of threatening and intimidating them."
The incident happened on April 4th when an officer was called to an assault with a deadly weapon incident involving an off-duty cop.
Kurt Ward recently had a child with his now ex-girlfriend, who happens to be Moss's daughter. Ward went home with his mother, Paulette Henson, and his other child, a 13-month-old baby who is also Moss' grandchild, to visit his newborn.
Upon entering the house, he was confronted by Moss. According to Ward, he felt threatened and ran back to the car.
KFOR Reports,
"I got in my mom's car. We locked the doors and we started going backwards," Ward said.

That is when Ward and his mother say Moss drew his weapon.

"He pulled a gun and he pointed it right at me," Ward said.

"Then all of a sudden he said 'oh my God mom he has a gun' and there was this gun looking at me," Henson said.
According to court records, however, Moss describes a very different but predictable alternate scenario. Moss claims that Ward's mother, with his infant son in the car, tried to run him over, so he "feared for his life" and pulled the gun.
Moss said he didn't fire the gun because there was a baby in the car, and miraculously he survived without injury, illustrating the trumped-up claim of "fearing for his life."
Ward's mother denies the claim, saying they were only trying to get away from Moss.
"Why would you point a gun at somebody driving a car that had your grandchild in it," Henson asked.
"I don't think he needs to be a cop. I think he is a loose cannon," Ward said.
Despite being charged with a crime, Moss will receive a paid vacation at the expense of the taxpayers, while internal affairs investigates themselves.