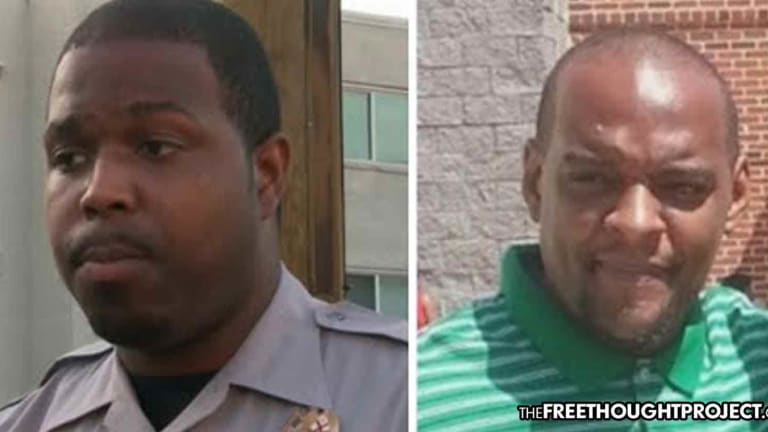 Cop Charged with Murder for Shooting, Killing Handcuffed Man Seat Belted In his Police Cruiser
A cop has been charged with murder after he handcuffed a man, put him in his cruiser and then shot him seven times, killing him.
Temple Hills, MD — In 2018, Sarah Wilson allegedly grabbed a gun and shot herself in the head while handcuffed in the back of a police cruiser. Her death was ruled a suicide. Victor White III, 22, was handcuffed in the back of a police cruiser in Louisiana and also allegedly grabbed a gun and shot himself in the back of a police cruiser. Like Wilson, his death was also ruled a suicide. Now, another man has been killed while handcuffed inside a police cruiser. This time, however, there is no chance of it being ruled a suicide as the man was shot seven times by the officer's service weapon.
On Tuesday, Prince George's County Police Chief Hank Stawinski announced murder, manslaughter, assault and weapons charges at a press conference. Cpl. Michael Owen Jr., a 10-year force veteran, allegedly shot the man, William Green , 43, of Washington, D.C., seven times.
"I have concluded that what happened last night is a crime," Stawinski said. There was no "reasonable explanation" for the events, he said.
According to police, on Monday night, Prince George's County police officers responded to reports that a driver had struck multiple vehicles. When they arrived on the scene, they found the driver, William Green. Temple Hills community, spokeswoman Christina Cotterman said the officers told her they believed the man was high on PCP because they could smell it.
While PCP does reportedly have an odor similar to magic markers, police claiming that a man was high on it without first conducting a toxicology exam is irresponsible at best and deliberately misleading at worst.
But there are other details to this story that paint an extremely sketchy picture. For starters, police were able to get the driver handcuffed without incident. We can deduce that it was without incident because officers claim they placed the Green in the front seat of the police cruiser after they handcuffed him.
Yes, you read that correctly. Officials told the media that it is normal for Prince George's County police officers to place suspects in the front seats of their vehicles. Based on the thousands of police stories TFTP has reported over the years, the idea that it is department policy to allow suspects allegedly high on PCP to ride in the front seat of a police cruiser — handcuffed or not — is unbelievable, as in, we don't believe it. TFTP has reported on incidents of police officers being arrested and asking to ride in the front seat to avoid embarrassment only to be denied by their arresting officers.
"A short time later, for reasons that are now at the center of the investigation, Green was shot seven times by the officer's duty weapon," the statement says.
Originally, police claim that once the officer hopped into the front seat with Green that a struggle ensued. Cotterman told reporters that police told her that "two independent witnesses told police they either saw or heard a struggle, and heard loud bangs coming from the cruiser."
During this alleged "struggle" the officer pulled his weapon and fired multiple rounds into the handcuffed man who was seat belted into the front seat of the police cruiser who could not have possibly been a threat. Adding to the suspect nature of this shooting is the fact that the officer was not wearing a body camera so none of the incident was captured on video.
According to Cotterman, police are now conducting an investigation into the shooting and looking at nearby residences and businesses to see if any of the shooting was captured on surveillance footage.
"Once again, a Black man – William Green – has been killed needlessly by officers with the Prince George's County Police Department," reads a statement attributed to Deborah Jeon, the legal director for the ACLU of Maryland. "Once again, reports indicate that the unarmed man was in a disoriented state when he was shot and killed – after he was handcuffed and put into the patrol car. The police put Mr. Green in the front seat of the patrol car, next to the officer, who then shot Mr. Green multiple times at close range."
The ACLU then criticized the fact that there was no video of the incident.
"There is reportedly no body camera footage that the man's family and the community can use to assess the truth of PGPD's claims. And there is good reason to question them."