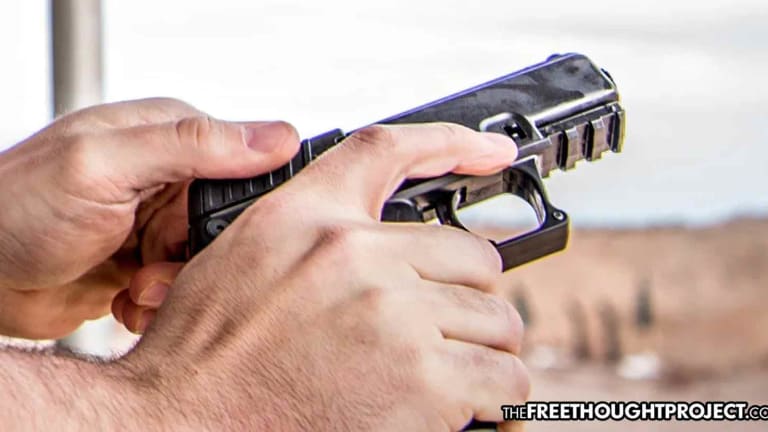 Cop Shoots Unarmed Man in the Back, Claims Gun 'Just Went Off'
While pursing a fleeing man, a cop claims his gun just went off causing a bullet to hit the man in the back, injuring him.
Tarboro, NC -- A man who should have simply been arrested and done his time for his crime will now likely receive a hefty taxpayer-funded settlement thanks to a cop who shot him in the back. The Tarboro police department is now conducting damage control by claiming that the officer's gun simply "went off."
According to police, they were holding an unconstitutional checkpoint last week, called a "traffic safety checking station" when the incident unfolded. During the checkpoint, police claimed to have smelled alcohol and marijuana on 30-year-old Christopher Tervon Harris.
When police demanded that Harris pull off to the side for further investigation, he fled the scene initiating a police chase. As police pursued Harris, he wrecked into another vehicle before exiting his vehicle and fleeing on foot.
According to police, as the Tarboro officer attempted to detain the fleeing driver, his firearm "went off," causing non-life-threatening injuries to Harris.
According to ABC11, the Tarboro Police Department charged Harris with felony speeding to elude arrest, possession with intent to sell/driver cocaine, resist /delay/obstruct a public officer; and careless and reckless driving. He was released on a $10,000 unsecured bond.
The Tarboro police department says it is now investigating the incident and the unnamed officer remains on administrative leave as per the department's policy.
A point that does not help the officer's claims that his gun just went off is the fact that Harris was the second person in just 48 hours to be shot by the Tarboro police department.
Before Harris was shot, Craig Locklear, 49, also fled police and was also shot. However, he was not as lucky as Harris and died at the scene.
Aside from the above the law treatment of this officer, the excuse of the weapon accidentally discharging is nothing short of asinine.
Guns do not fire themselves.
Weapons companies spend a significant amount of time and money making sure their guns don't simply 'go off.' While it is entirely possible for older single action revolvers, which required the hammer to be cocked, to go off when dropped, the idea of a modern pistol accidentally firing without someone pulling the trigger is simply absurd.
There are more guns than people in the United States. It is estimated that Americans own around 357 million firearms. If these weapons were so prone to accidentally firing, there would be a lot of dead Americans. However, that is clearly not the case.
The reality is that these cases of guns "accidentally firing" most always involve police, who are entrusted by the public to responsibly carry weapons, failing miserably at their jobs. You could rest assured that if a mere citizen were to shoot their fellow citizen 'accidentally' they would be cast out by the anti-gun crowd and plastered across the mainstream media. They would also be in jail.
However, if your job is to carry a firearm for a living to ostensibly protect society and you cause injury to others by shooting them in their back — you are immediately presumed innocent and given special treatment.
In fact, TFTP reported on several instances in a single week in which officers "accidentally" fired their weapons. Some of the unintended victims were shot as well.
At a Halloween party, another cop in North Carolina shot and severely injured her own daughter as she showed off her service weapon. Like this officer, she was not charged.
Prior to that shooting, a cop in Ohio fired his weapon into a daycare center — while it was fully occupied. He was also not charged.
During a wrestling tournament at Fowlerville High School in 2018, panic ensued as a gun shot rang out. The shot was fired from the gun of an off-duty Flint police officer who was there to watch his son wrestle.
"A parent had a revolver in their pocket that discharged somehow and went off in the middle of our wrestling tournament," said Steve Richardson, an official with Michigan USA Wrestling.
That parent was a police officer whose identity was protected and who was not arrested—two privileges that would most assuredly not be given to a civilian who accidentally fired off a round in a school.
"After the police were here and did their investigation and did what they had to do, we were able to resume wrestling and finish our tournament," Richardson said.
According to the school, the cop shot the gun while he stood up sending the bullet into the floor. Luckily the floor was wooden and the bullet did not ricochet and kill a child. However, multiple people were injured as children and adults trampled each other.