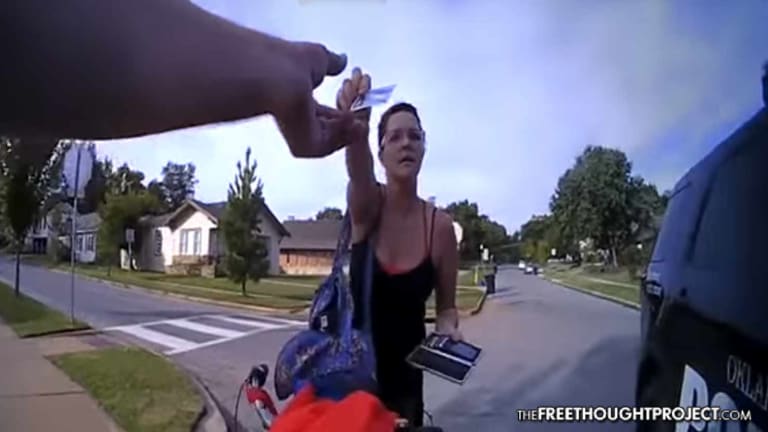 WATCH: Cowardly Cop Cuffs Innocent Woman Claiming She 'Used Her ID as a WEAPON'
A police officer claimed a woman was using her driver's license as "a weapon" and attempting to throw it at him, but Body Cam footage showed the opposite.
Oklahoma City, OK – Body camera footage of an arrest in Oklahoma is raising questions after a police officer is seen conducting an illegal search and justifying the arrest by accusing a woman of using her driver's license as "a weapon."
The video began when Oklahoma City Police Officer James Herlihy pulled his patrol car over to the side of the street in a residential neighborhood. He got out, and approached a woman on a bicycle, demanding to know where she lived, and then insisting to see her I.D.
Kelsey Pierce said she was riding her bike to work when she was confronted by Herlihy, and when she was told to produce identification, she asked, "What for?"
"Let me see the I.D., or you're going to go in handcuffs and go in the back of the car until I can figure out what's going on," Herlihy said. "Someone called about a female with a black shirt and a backpack."
Pierce began pulling items out of her backpack to get to her I.D. This included a Halloween costume, which she told the officer she was bringing with her to wear at work. She then pulled out her wallet and opened it. "There's my I.D." she said.
Herlihy demanded Pierce take her driver's license out of her wallet, and as the video shows, she handed it to him. Despite the fact that Pierce was clearly following Herlihy's orders, he told her to put her hands behind her back, and he proceeded to lock her wrists in handcuffs.
"Gotta make things difficult, I see," the officer remarked to the woman as she clearly complied with all of his orders and made no attempt to resist arrest.
However, while the video evidence documents one thing, the OKCPD call log published by the Oklahoma City Free Press reveals that Herlihy claimed Pierce "was very hostile and kept throwing items around," and that she "attempted to throw" her driver's license at him.
Although Pierce does not appear to purposefully throw items out of her backpack or attempting to throw her I.D. at the office, she does appear agitated, which could be explained by the fact that she was given very little information about why she was being stopped by a police officer and questioned when she was just trying to get to work.
After pushing Pierce towards the patrol car, and telling her to wait in the backseat, Herlihy proceeded to search through the items in her backpack, before scanning her driver's license.
Pierce told KFOR News that she was terrified by the ordeal, and she had no idea why it was happening. "The officer searched my backpack and searched my bags on my bicycle and then told me that I matched the description of a complaint about a suspicious person," she said.
Herlihy's search through Pierce's belongings, which is documented by the Body Cam footage, occurred without a search warrant and without her permission. Her attorney, Bryce Harp, told KFOR that the officer's actions were illegal.
"He never told Kelsey why she was being detained until she was in the back of his police car while he was searching her belongings," Harp said.
While Pierce was forced to sit handcuffed in the backseat of the police car, she tried to explain to Herlihy that she was initially slow when responding to him because he startled her.
"Obviously you weren't, that's why you are in handcuffs in the back seat of the car, because you were throwing stuff at me," Herlihy replied. "You handed the ID card to me like you wanted to use it as a weapon and throw it at me."
After Herlihy searched for warrants matching Pierce's name, he let her out of the car, unlocked her handcuffs and told her that she was free to go, while interjecting smug comments about how she could have avoided the arrest by cooperating—even though that is exactly what she appeared to be doing.
Pierce has filed a complaint with the police department regarding Officer Herlihy's aggressive behavior. While it remains to be seen whether he will be held accountable for his actions, the fact that a police force continues to employ an officer who sees a plastic driver's license as a weapon when he thinks it might be thrown at him—even when the suspect is an innocent citizen who wants nothing more than to make it to work on time without being detained for imaginary offenses.
Watch the officer's Body Camera footage of the incident below: