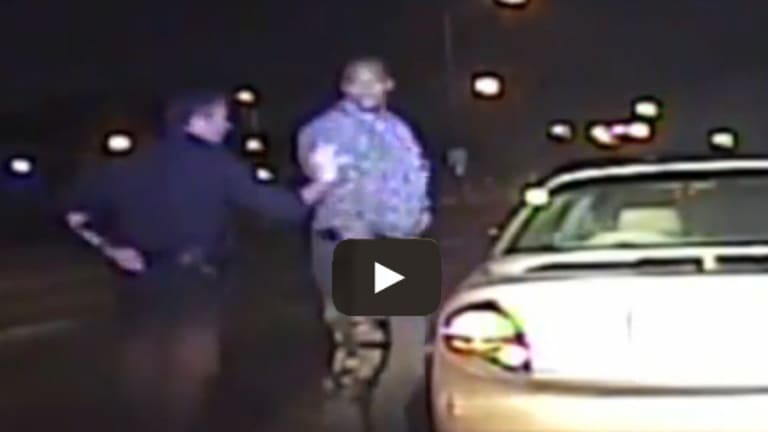 This Cop was Cleared of Any Wrong Doing After Preying on this Innocent 59-year-old Man
"I couldn't breathe. I vomited and almost passed out."
June 7,2014
A 59-year-old man is suing the Dallas Police Department for an alleged civil rights violation.
Dash camera video shows Albert Butler driving down the road after a trip to the grocery store. He abides traffic signals and drives safely, yet he is pulled over for an unsafe lane change.
As if officer Brian Bradley was intentionally preying on the weak, the video shows him wait several minutes and then order Butler out of the car.
Butler who is hearing impaired and wearing a leg brace is obviously confused as to why he is being treated in such an abusive manner.
Then, in the typically unscrupulous fashion of corrupt cops, officer Bradley pushes Butler out of the view of the dashcam. Butler says that is where Bradley beat him.
"So he grabbed me by the neck, and threw me to the ground, choking me," he said. "He drug me where he wanted me, and he just took action on his own."
"Choking me," he said. "I mean, I couldn't breathe. I vomited and almost passed out."
Butler, who later had to be taken to the hospital by ambulance, said he cried for help.
"I was doing all that hollering and screaming, and crying out to God, 'Please, make him stop,'" he said.
Officers later searched his car, in a likely attempt to justify these brutal actions, but found nothing.
Butler's attorney, Daryl Kevin Washington, is suing Dallas Police, citing no probable cause to even have pulled him over, much less search him or use force.
"Mr. Butler did not resist and ended up on the ground, basically struggling for his life," said Washington.
This incident happened in 2012 and as expected the internal affairs 'investigation' found officer Bradley's actions justified.
Since 2012, the Dallas Police Department has paid nearly $6 million for civil rights violation cases.
This will likely and unfortunately be just another example of the tax payers being held accountable for the abusive actions of police.