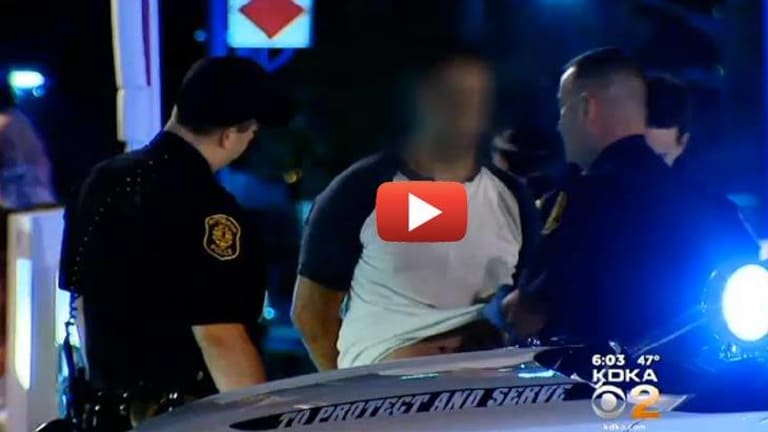 This Cop Got a First Hand Taste of Police Brutality and His Violent Arrest was Also Caught on Video
In a system that has become so rife with brutality, it is only a matter of time before it starts to attack itself.
Pittsburgh, PA-- A Pennsylvania State Trooper, David Williams, is suing the city of Pittsburgh and four police officers following his own brutal arrest in September. This cop on cop violence was caught on surveillance video.
The encounter began at Williams' brother's wedding reception where a server alleged that the groom got "touchy-feely" with her and tried to pressure her into drinking alcohol despite her informing him that she was pregnant.
The uncomfortable woman called her boyfriend to come pick her up, and upon arrival, the man confronted the groom about his behavior. A fight broke out between the two men, and when police arrived a confrontation between the officers and Williams began. The arresting officers claim that Williams would not move back and became aggressive with the police.
Williams was ultimately arrested for allegedly ignoring police orders to stand back and fighting with officers, CBS reported. The trooper and his lawyer are disputing the official story and say that the video proves that the Pittsburgh officers were the ones who assaulted him.
"Throwing him to the ground, punching him in the head, kicking him in the groin, and for that conduct, he was then charged with criminal offenses that he didn't commit in an effort to justify these abusive tactics," his attorney Tim O'Brien told KDKA.
The video very clearly shows Williams being kicked and assaulted.
"These officers' false reports destroyed my reputation, traumatized my family and nearly caused me to lose my job and my liberty. If I hadn't discovered the surveillance videotape, I might never have been able to clear my name," Williams said in a statement to KDKA.
This is not the first time we have seen that thin blue line injuring its own.
In February, an officer responding to a domestic disturbance at a North Texas residence, shot and killed an off-duty sheriff's deputy.
At the end of January, we reported on a Yonkers police officer who shot a suicidal officer from another precinct, claiming he feared for his safety.
Earlier in the month of January we reported on an undercover Albuquerque police officer who was shot by another officer during a drug bust over $60 worth of meth. The media called it a "tragic accident" while, in reality, it was another example of police shooting someone who poses no threat to them.
In another tragic incident, John Ballard Gorman was shot and killed by fellow officer during a training exercise in Tunica, MS last month. The officer who shot Gorman failed to switch out his weapon for a training weapon and fired a real round into his fellow officer, killing him.