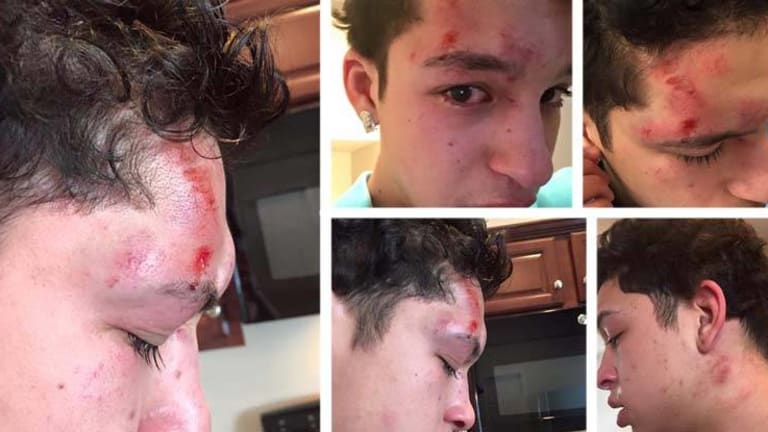 School Cop Destroys 15-yo Student's Face After He Tried to Call his Mom During Lunch
Witnesses claim the teen was beaten after he was placed in handcuffs.
Gates, NY -- Last week, Stephanie Petrillo's 15-year-old son Joe was dropped off at their home -- battered, bloodied, and with a fractured orbital socket. His mother says she was given no reason for the drop off other than Joe suffered the injuries after he fell on the floor while being restrained by officer Shawn O'Mara of the Gates police department.
After he was dropped off crying and severely injured, Stephanie Petrillo would soon find out about the nasty confrontation between her son and this Gates police officer.
In an interview with Activist and Blogger Davy Vara, Petrillo explained how her son's cellphone led to his assault by a public servant who is nearly double Joe's size.
According to Petrillo, last Friday morning, Joe, who was at school on his lunch break, asked the school's principal, Mary Vito, for his cellphone. In high schools, it is not uncommon for students to have to leave their phones in the office every morning.
While he was on lunch, Joe merely wanted to call his mother. However, principal Vito was not going to allow him to do that, so the two went back and forth several times. At this point, officer O'Mara stepped in to force Joes' compliance.
Gates, NY Police officer Shawn O'Mara was on school property and responded to the argument between the principal and the student.
"He grabbed my son, who is maybe one hundred and twenty pounds, like a bean pole, and he slams him on the floor, handcuffs him and then starts punching my son in his face," Petrillo said.
"This is a police officer who weighs more than two hundred pounds, and he beat my son."
Joe was then put into the patrol car and brought to his mother, bleeding and crying in agony. When this mother brought her son to the hospital, she learned that he had suffered an orbital fracture, a concussion, and multiple contusions -- all at the hands of this police officer.
In a statement on Tuesday, Gates Police Chief James VanBrederode confirmed that O'Mara punched the teen in the face, but said that this officer, twice the size of his subject, was justified in the beating because the student became "out of control."
VanBrederode also said that the officer was wearing a body cam that confirms Joe's behavior. However, they have yet to release it, which is strange considering the fact that they have posted body cam footage directly to their Facebook page.
Gates police say they have statements from students who say they witnessed the altercation. But there are witnesses on the other side who say they saw O'Mara punch Joe while he was in handcuffs.
According to Joe's girlfriend, O'Mara hit Joe in the face while he was in handcuffs.
The family has since hired attorney John Parrinello. The Free Thought Project spoke to Mr. Parrinello on Wednesday, and he told us that he is waiting to hear back from Chief VanBrederode so he and the family can view the body cam footage.
Police charged the teen with resisting arrest, and menacing, as well as grand larceny. But because of his age, the case will be handled in Family Court.
When asked about the menacing and grand larceny, Parrinello told the Free Thought Project that he does not know why the teen is facing these charges.
Only when the body cam is released will we know more about this story. But, even then, as we've seen in the past, body camera footage can often lead to more questions than answers.
Even if this 15-year-old boy was "out of control" the violent escalation by the officer was more than likely entirely unnecessary. All too often, the presence of police officers in schools turn typical student discipline problems into violent and confrontational legal issues.
[author title="" image="https://tftpstagingstg.wpengine.com/wp-content/uploads/2016/03/magorist-e1456948757204.jpg"]Matt Agorist is an honorably discharged veteran of the USMC and former intelligence operator directly tasked by the NSA. This prior experience gives him unique insight into the world of government corruption and the American police state. Agorist has been an independent journalist for over a decade and has been featured on mainstream networks around the world. Follow @MattAgorist[/author]