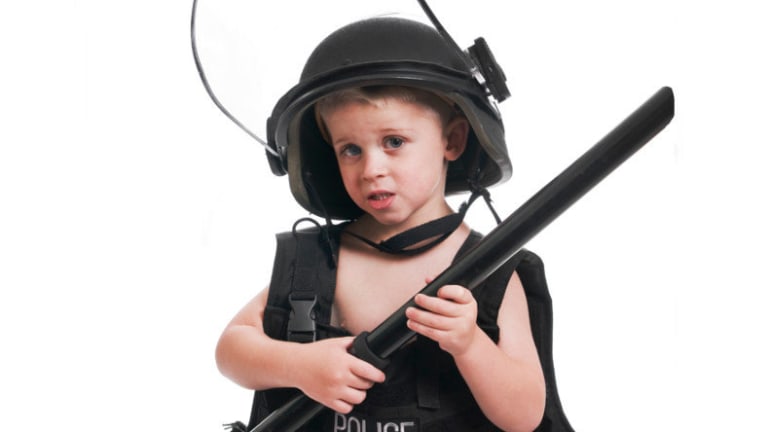 Cop Dresses Young Daughter as a Police Officer- Films her Marching to KKK Anthem
Charleston Police Lt. Shawn Williams has been placed on paid leave after the department obtained videos from the officer's computer of his young daughter marching to the KKK Anthem while wearing articles from a police uniform.
Williams, who has been on the force for 16 years, is currently under investigation by the Police Department's professional standards division.
In the videos, Williams can be heard asking his daughter questions and derogatory racial language is used, sources told the Charleston Gazette.
A portion of the cheesy and cartoonish anthem states-
Stand up and be counted, show the world that you're a man
Stand up and be counted, go with the ku klux klan

We are a sacred brotherhood, who love our country true
We always can be counted on, when there's a job to do
We serve our homeland day and night, to keep it always free
And proudly wear our robes of white, protecting liberty.
Williams decided not to denounce racism or the KKK, telling the Charleston Gazette-
"My wife and I are in the middle of a difficult and painful divorce, neither of us can or should disclose or comment on deeply personal matters involving our children, who are my first concern. These matters involve a sealed court proceeding."
In July, we reported on two Florida police officers who were discharged from the force after they were outed as KKK members in an FBI investigation. One officer was fired and the other resigned before the department got the opportunity to fire him.
In 2009, an officer from the same department, James Elkins, resigned after admitting to Channel 9 that he was a local KKK leader.
Three days later, John Vibes also reported on a Portland police captain who won a lawsuit against the city and had his disciplinary record cleared, including his suspension for nailing "memorial plaques" of five Nazi soldiers to a tree on the east side of Rocky Butte Park in Portland sometime between 1999 and 2010.
The captain was recently promoted to the head of the city's drug and vice division.
In August, Imperial Wizard Chuck Murray, the leader of the New Empire Knights of the Ku Klux Klan, sent out an email urging members to donate to a reward fund for Darren Wilson, murderer of unarmed teenager Michael Brown, in Ferguson, MO. The email read in part,
"We are setting up a reward/fund for the police officer who shot this thug, he is a hero! We need more white cops who are anti-Zog and willing to put Jewish controlled black thugs in their place."
Black people across America being the disproportionate target of arrest, incarceration, and violence by the police is a systemic problem.
The U.S. Bureau of Justice Statistics reported that an African American male born in 2001 had a 32% chance of going to jail in his lifetime, while a Latino male has a 17% chance, and a white male only 6%.
This is not because African-American people commit more crimes, either.
For example, African-Americans comprise 13% of the U.S. population and 14% of the monthly drug users, but 37% of the people arrested for drug-related offenses in America are black. Racial profiling simply leads to more encounters with police, and therefore greater odds of being arrested, brutalized, or killed.
Even if officers aren't always physically wearing the hoods themselves, they sure seem to be aligned with the KKK's agenda.