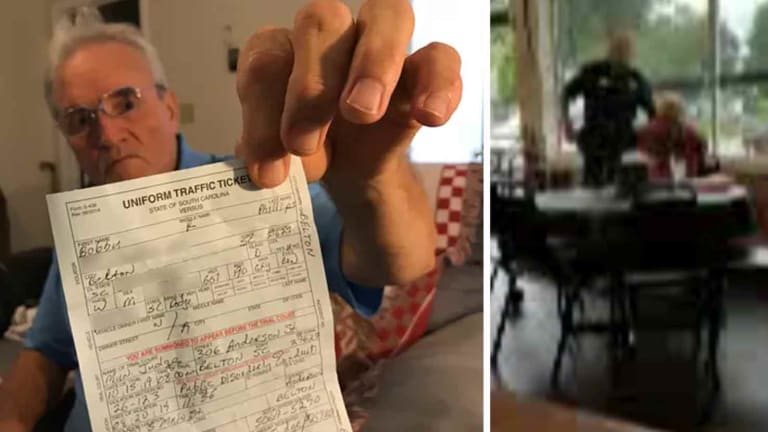 Cop Assaults, Fines Elderly Grandpa for Asking Him to Close the Door to the Bathroom
When a cop was asked by a 75-year-old man with one leg to close the bathroom door, the cop proceeded to assault and cite him for it.
Belton, SC — Bobby Ray Phillips, 75, is a regular at the Standpipe Family Restaurant in Belton, SC. Earlier this month, he was enjoying one of his favorite meals for lunch when he noticed someone using the bathroom with the door wide open. Not wanting to see—or smell—the things happening in the bathroom, Phillips asked the person to close the door. Instead of closing the door, however, that person came out of the bathroom, assaulted the elderly man and then issued him a citation for $257—because that person was a cop.
Some of the incident was captured on video by Cindy Young, who was also dining in. Naturally, a police officer who is willing to assault and extort an elderly man for asking him to close the bathroom door, also had no problem demanding that Ms. Young stop filming.
In the brief video, we can hear Shockley say the word "handcuff" before turning to Young and threatening her, saying, "ma'am, do I need to take that phone from you?"
Young told the Independent Mail that she complied because she was afraid she'd be arrested or have her phone seized.
According to Phillips, Belton Police Cpl. Thaddeus Shockley went to the restroom that afternoon, and for some reason, refused to close the door. So, Phillips asked him to close it.
Attempting to justify his treatment of the elderly man, however, Shockley wrote in an incident report that Phillips "yelled in a boisterous manner" at him after he left the restroom "you not going to shut the door" — as if this somehow justifies the subsequent treatment Phillips would endure at the hands of this power tripping cop.
"All I said to him was close that bathroom door," Phillips said in an interview at his home on Wednesday. "I said, 'You left that door open, I'm eating here. Leave that scent in there, right?"
After being asked to close the door, the officer then did what cops love to do when their authority is questioned and he demanded to see Phillips' ID.
According to the Independent Mail, Shockley, in his report, said Phillips declined to show his ID and also declined to go outside. Shockley wrote that he attempted to assist Phillips, but he held onto his chair and became "defiant."
By "assist," Shockley meant he manhandled the 75-year-old man with only one leg, and caused visible injuries.
"You can't manhandle a 75-year-old man without hurting him," Phillips said as he showed the reporter his injuries.
Shockley's report was full of holes and inaccuracies and luckily the video showed some of this, leading to an internal investigation. As the Independent Mail reports:
Phillips and Young said Phillips was handcuffed and released at least four times, twice in the restaurant and twice outside. Shockley's report makes no mention of Phillips being handcuffed.

Police Chief Robert Young, no relation to the woman who shot the video, said an officer requesting someone to stop filming them can be problematic. He said he has not had the opportunity to debrief Shockley, who was off on Wednesday. He said he expected to get more details from Shockley on Thursday.

In a statement sent late Thursday afternoon, Young said an internal investigation had been started, to include review of any other possible video as well as interviews with witnesses. He said the department would refrain from further comments until the investigation has concluded.
"We understand and appreciate the trust placed in us by those we serve," Young said in the statement. "We strive to provide quality service to the Belton citizens and maintain a level of integrity that is fitting of our city."
The chief went on to explain that filming police who are doing their jobs is entirely legal and Young should not have been threatened in such a manner.
While an elderly man being assaulted and fined for asking a cop to close the bathroom door is certainly disheartening, the story does have a somewhat of a positive ending. After the video was shown to the police chief, Shockley was fired from the department. Now it is time for charges of official oppression.
"We want our citizens treated well, treated fair and we won't tolerate anything less," Belton Mayor Wendell Page said.