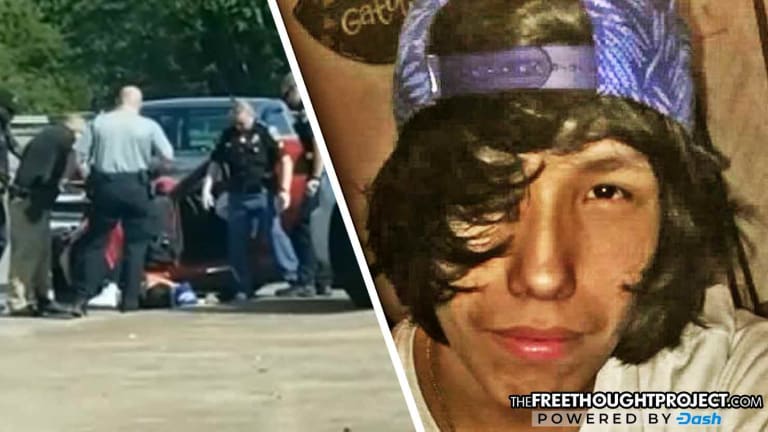 Cop Executed Unarmed 15yo Boy After He Stole the Car of a Molester Who Kidnapped Him—Lawsuit
The family of a teenage boy who was shot and killed by police has filed a lawsuit claiming that he was a victim of child sex trafficking, fleeing his abuser
Falkville, AL – The family members of an unarmed teenage boy, shot and killed by an Alabama police officer last year, have now filed a lawsuit against the man who gunned him down. They claim their son and brother was a victim of child sex trafficking who escaped his abuser by stealing his car. The family contends he was needlessly killed, and should still be alive today.
Bryan Sage Barnes, 15, was shot and killed in July 2017 after he was accused of stealing a red Ford Mustang and taking police on a high-speed chase. Priceville Officer Bryan Smith, a 10-year-veteran of the force, intercepted Barnes and attempted to pull him over.
The chase came to an abrupt end when Smith used the move known as the "pit maneuver" to force Barnes to lose control of the vehicle. The Mustang crossed the median and impacted another vehicle in oncoming traffic. Smith then opened fire, killing the unarmed teenager. According to a press release obtained by TFTP, the Priceville Police Department claimed Barnes rammed Smith's car, which "crushed" the trooper between his car door and the body of the vehicle. Lawyers for the family say that never happened and they have video proof (below).
Barnes Priceville Press Releases
Following an Alabama Law Enforcement Agency investigation, Smith was cleared of all wrongdoing. But Barnes' brother, Michael Barnes, is now suing the officer in a federal civil rights lawsuit claiming that police lied about the risks Barnes posed to the officer's safety.
According to AL.com, the family says Barnes was a victim of child exploitation. Lawyers for Michael Barnes confirmed to TFTP the man he was traveling with was in his 50's and the family indicated he may have been sexually abusing the teen. Barnes' girlfriend's mother believes Barnes stole the car from his captor, and was fleeing to return home to safety in Tennessee.
Barnes' mother died earlier in 2017 and the teen was apparently struggling to come to terms with the loss. None of his other family members wanted him so he was sent to the foster care system. After several run-away attempts—including one which found him in Texas—Barnes was returned to foster care.
It is unclear how he ended up in Alabama, but his girlfriend's mother believes he stole the very same vehicle that had transported him to Texas following the first run-away wherein he also ran away with her daughter. Both families believe he was attempting to return to Madisonville, Tennessee, to be with his girlfriend, Alyssa Lafeww, when he took his captor's car.
The lawsuit reportedly claims Barnes was "executed" "without justification." According to AI.com:
"Barnes, only 15 years of age and a resident of Tennessee, was in Alabama as a result of exploitation by an older man," the lawsuit says. "Barnes escaped from the man...by taking the man's vehicle, a 2010 Mustang."...At no time did anyone claim Gabriel was armed," the lawsuit states...

"The collision with the median rendered the car undriveable, but the car did not come to a complete stop until it hit a car on the other side of the median," attorneys wrote in the lawsuit.

Smith "stopped, opened his door, and executed Gabriel by shooting him approximately eight times," the lawsuit says. "Gabriel made no attempt to put the car in reverse or otherwise to drive the car."
Claims made in the lawsuit contradict the official version of events presented by Priceville Police, which stated Barnes put his vehicle into reverse, slammed into Smith's vehicle, and pinned Officer Smith between the driver's side door and the squad car, presenting a scenario in which Smith allegedly "feared for his life." The subsequent investigation and the DA's refusal to press charges against Officer Smith allowed the officer-involved shooting to stand as justified. The case was never presented to a grand jury.
In November 2017, Barnes' father, Bernard Provancial, was outraged by Smith's response to the situation. He called for the officer to be held accountable for his actions, saying:
I want the Police Department to pay for this...Even if he was a delinquent, that cop should still have to pay because Gabe was someone's kid. Think about shooting somebody just because they backed into your car. If you don't have that kind of control, you don't need to be a police officer...The good ol' boys. They'll protect their own.
Smith is the only named defendant in the lawsuit filed by Florence, Alabama civil rights attorney Hank Sherrod, and Athens lawyers Evan Walden and Matthew Walden. Sherrod told TFTP in an exclusive, "Police don't get to be judge, jury, and executioner. There was no reason not to simply arrest (Barnes)," and says he deals with these kinds of cases way too often.
Sherrod also told us the Priceville Police Department has refused to release the dash camera and body camera footage to his agency but believes he will get access to those materials at some point. In the meanwhile, he sent us the following video of the immediate aftermath of what he considers to be the execution of Barnes. Onlookers apparently agree. Even in the video Smith can be seen unpinned from the accident, a clear indication Sherrod believes they're not telling the truth.