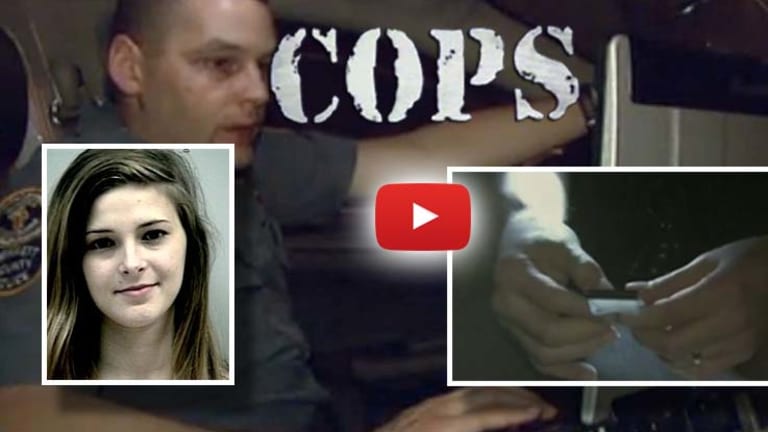 Cop Exposed for Planting Cocaine on a Woman While Filming an Episode of 'COPS'
An innocent woman was targetted and subsequently arrested so a television show could make police look good.
Gwinnett County, GA -- A young woman has been forced to pursue her own form of justice after a police officer, while showing off for an episode of the TV show COPS, allegedly planted fake cocaine on her to make a bust for the camera crew.
Elizabeth Leigh Butler has filed a lawsuit against the Gwinnett County police for planting "suspected" cocaine on her to show off during the filming of COPS. On Tuesday, Judge Leigh Martin May dismissed large portions of her suit. However, the parts alleging misconduct against Senior Officer Paul Tremblay for framing her, are allowed to continue.
According to the Gwinnett Daily Post, Martin May found that Butler had sufficiently alleged that Tremblay didn't have probable cause to arrest her for loitering and plausibly could have planted fake cocaine, leading to a "warrantless arrest."
On August 22, 2013, the police state propaganda show COPS was filming on location in Lawrenceville. As the crew pulled into the First United Methodist Church parking lot, they saw Butler sitting in a van with a friend. Tremblay immediately accused Butler of loitering and began puffing his chest for the cameras.
"Her life has simply been destroyed," said attorney John Burdges. "It's well over 33,000 hits. What's really damaging is the officer's statements on the video."
The video shows Tremblay talking about Butler's marijuana leaf tattoo and the tattoo of a Grateful Dead bear on her foot as if this implies Butler is some hardened criminal.
"That is consistent for some drug users," Tremblay said in the video.
He then accuses the young woman of having cocaine, but when he tested it, the results were negative. "This was the result of first test. It was pink. There is no drugs in this test," Burdges said in an interview last August as he held up the evidence, clearly showing a negative result.
However, according to Burdges, the unedited video shows that after the test came back negative, Officer Tremblay goes to the trunk of his squad car and gets a "second kit."
According to Burdges, the unedited version of the footage also shows the officer saying he was going to try another test and then "give them the bad news," as if he knew his next test would be positive.
"That would be cocaine. That's positive for cocaine," Tremblay said in the video -- after the first test failed and after he went to his trunk.
"We submit that the test was turned positive because the only person that possessed cocaine that night was the officer," Burdges said.
Burdges says that both Tremblay and the production team behind COPS knew full well Butler and her friend didn't have any drugs.
Butler was then arrested and charged with possession of a controlled substance. However, after the cameras had been turned off, the Georgia Bureau of Investigation found no drugs, so the charges were dropped.
"Now she's tarnished for life," Burdges said after the COPS show made it seem like she was a junky. "I think the officer had the drugs."
For wrongly accusing an innocent girl of having drugs, and depriving her of her freedom, Tremblay has faced no consequences. He is still employed with the Gwinnett County police department -- and he is still enforcing the immoral war on drugs as part of the department's K9 unit.
[author title="" image="https://tftpstagingstg.wpengine.com/wp-content/uploads/2016/03/magorist-e1456948757204.jpg"]Matt Agorist is an honorably discharged veteran of the USMC and former intelligence operator directly tasked by the NSA. This prior experience gives him unique insight into the world of government corruption and the American police state. Agorist has been an independent journalist for over a decade and has been featured on mainstream networks around the world. Follow @MattAgorist[/author]