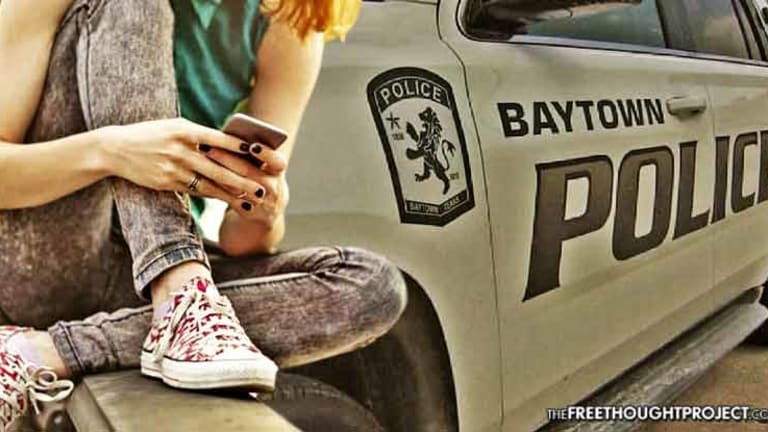 Cop Investigated for Forcing Teen Girl to Send Him Nude Photos to Erase a Traffic Ticket
A sicko cop was caught via social media, stalking one of his traffic stop victims and demanding she send him nude photos in exchange for leniency.
Baytown, TX — A Baytown cop is under a criminal investigation as well as an internal investigation, after being accused of extorting nude photos from a teen girl after a traffic stop.
According to affidavits filed in the case, Officer Michael Coppock told an 18-year-old driver that he would change two traffic tickets to warnings if the teen would send him naked pictures of herself.
According to the investigation, Coppock ticketed the girl for speeding and an expired registration and offered to dismiss them for the nudes.
After ticketing her, this sicko cop tracked down his victim on social media and communicated with her via text message. The text messages were confirmed on Coppock's phone after the department acquired a search warrant to view them.
As KHOU reports, in laying out their case for a search warrant for Coppock's cell phone, police say they viewed screenshots of the conversations and characterized the messages as "clearly coercive in nature," and "putting pressure" on the teen.
So far, the department has refused to comment on the case, only noting that there is an active investigation and that Coppock is still on the force.
KHOU spoke with Larry Karson, an assistant professor of criminal justice at the University of Houston-Downtown, who brings out some serious questions.
"Has more than one woman been extorted in this manner?" wondered Karson. "With a story such as you're doing on KHOU, this is offering the opportunity for other victims to come forth and give their own story of victimization. It also allows the chief to find out if it's any deeper in his department. If it's more than one rotten apple. If it's actually some hidden subculture within the department if he gets more people coming forth."
In spite of the screen shots and the confirmed 'coercive' text messages, Coppock has yet to be charged in this case.
According to court records, investigators have also obtained search warrants for the cop's Snapchat as well as his alleged victim. If Karson's theory holds water, which it most likely will, investigators could likely uncover a history of abuses just like this one.
Sadly, Coppock's actions are far from isolated. Police officers — as well as those in any position of 'authority' — will often use those positions to prey on the vulnerable. As the Free Thought Project has pointed out numerous times, all too often, society's worst are attracted to these positions because of that power.
"Power tends to corrupt, and absolute power corrupts absolutely. Great men are almost always bad men,..." —John Dalberg-Acton
The quote above sums this scenario up perfectly and explains why there is rampant abuse of police database searches, sexual misconduct, and a near-epidemic of child pornography within police departments from coast to coast.
When Coppock decided to extort nude photos from a teen he was extorting through traffic tickets, perhaps he was fantasizing about being like Trooper James Randy Moss. Moss served 4 years of probation for his idiotic and power-abusing actions, after stopping Justis Ellen Richert, who's known in the porn industry as Barbie Cummings.
Cummings said she told the trooper about her job and sat beside him in the front seat of his cruiser as he checked her Web site from his state-issued laptop, then said yes when she offered him oral sex.
Cummings said the trooper shot photos and video of the act with his cell phone and sent her copies. Then the world's dumbest cop asked her to put them on her blog so he could brag about it to his buddies on the force.
Naturally, the officer was caught after bragging to his entire department that he'd extorted fellatio while collecting revenue for the state.
Perhaps the most telling aspect of this story is that even after this abusive cop received the sexual favor, he still wrote her a ticket.