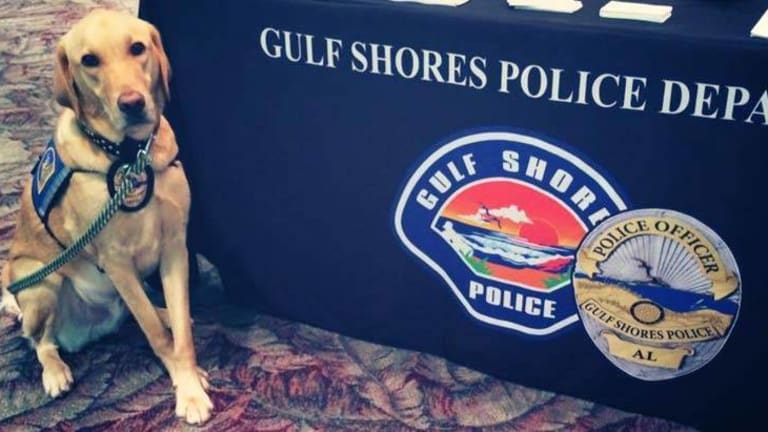 Cop Will not Face So Much as a Slap on the Wrist for Leaving K-9 in Hot Car Until he Died
Police in Alabama illustrate just how above the law they are after refusing to dish out any discipline to the officer who left his dog in a hot car until it died.
Gulf Shores, AL -- Alabama law makes it illegal to engage in activities which can cause serious physical harm or death to animals.
Serious physical harm, as defined by Alabama state law is as follows: Any physical harm that carries a substantial risk of death, permanent or temporary maiming or disfigurement, or that causes pain or suffering of any gravity or duration.
Article 11 of the Alabama Criminal code makes it illegal to subject any animal in person's custody to cruel neglect. The act of causing intensive or prolonged pain or serious physical injury, or death to an animal through neglect falls under § 13A-11-14.1, it is titled Aggravated cruelty to animals, and is a Class C felony.
Corporal Josh Coleman caused serious physical harm and death to K9 Officer Mason, a 3-year-old yellow lab. His actions, or rather lack thereof, directly caused prolonged pain, serious physical injury, and death of a police animal. His neglect, intentional or not, was indeed cruel.
Had a civilian left their dog in a hot car until it died, they could be facing felony charges. However, Cpl. Coleman will not be charged under any of Alabama's laws against cruelty to animals. In fact, Coleman will not receive so much as a slap on the wrist for causing the death of Mason.
Perhaps the most troubling facet to the death of Mason is that he wasn't a dog trained to sniff out drugs or bite fleeing criminals. Mason was trained to be a nice and caring dog. He was a "community engagement officer," a dog for kids to pet and whose job was to make police look kind and approachable.
Sadly, the fact that Mason wasn't a dog used to inflict pain or seek out "dangerous" plants, are factors that inevitably contributed to his demise.
"Mason was not an enforcement K-9. Enforcement K-9's spend a good deal of time in their handler's vehicles, so those vehicles are equipped with remote heat alarms, water bowls., and other protective measures. Because Mason's duties did not include long periods in a vehicle, those protective measures were not available in his handler's car," GSPD spokesman Sgt. Jason Woodruff wrote in a statement Monday.
In his statement, Woodruff drew attention away from the illegal behavior and focused on the pain Mason's family is feeling.
"This situation has been devastating for Cpl. Coleman and his family and we hope that they are able to work through their understandable emotions. This is a tragic occurrence that has left the entire organization mourning a terrible loss," Woodruff said.
Of course, the loss of Mason is devastating to Cpl. Coleman and his family as it would be for anyone. The issue at hand, however, is the double standard being afforded to Cpl. Coleman because of his badge and uniform. Had Coleman not had the privilege of stepping behind the blue line, he would have had a warrant issued for his arrest.
Consider the following scenario as a comparison.
Last year, in Alabama, Kathy Hadley left her dogs in a hot car while she shopped at Walmart. When she returned, her dogs had died. Days later a warrant was issued for her arrest and she faced up to a year in jail.
This situation was most likely "devastating for Hadley and her family," but she was still held accountable for her actions.
Those who are tasked with upholding the law should be held to a higher standard than the rest of us, or at the very least, the same standard. However, as is the case the majority of the time, the blue line conceals a much lower set of standards.
Unfortunately, nothing will change until more people call out this overt above the law attitude. Share this article with your friends and family to show them how the blue line escapes accountability while the commoners continue to suffer.