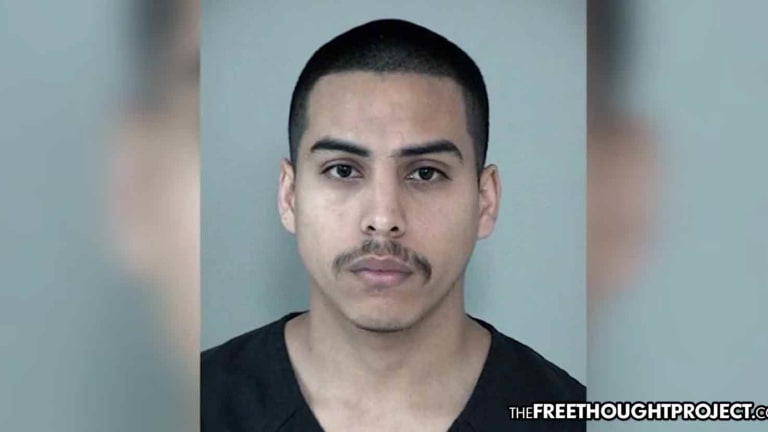 Cop Facing Life in Prison for Pulling Over Women, Kidnapping and Raping Them
A Texas cop was arrested and charged with kidnapping and raping women he pulled over for a traffic stops. He now faces life in prison if convicted.
Arcola, TX — Officials in Arcola are asking anyone with knowledge of alleged kidnappings and rapes by one of their police officers to come forward. They believe the women he allegedly raped following traffic stops may not be his only victims.
Hector Aaron Ruiz, 25, was originally arrested and charged with coercing a woman he pulled over on November 16th, 2019 into a sex act. In other words, he used his badge to get sexual favors from those victims he was pulling over. A unnamed woman (victims of sexual assault are not identified out of respect for their privacy) said Ruiz pulled her over, told her to follow him in her car, took her to a dark place, and demanded sex.
Now, he faces even more charges in a federal indictment.
On Nov. 10, Ruiz was charged with aggravated sexual abuse and kidnapping while serving as an officer for the Arcola Police Department, according to prosecutors. He faces up to life in prison if found guilty.
One of the victims apparently knew better than to report Ruiz to his own police department. Instead, she went to Manvel PD to report being raped by Ruiz following a reported traffic stop for moving violations. Manvel contacted Arcola PD, then the Texas Rangers took over the investigation.
As Click2Houston reports, 
Ruiz was originally arrested on warrants last month, stemming from an incident prosecutors said occurred on Nov. 16, 2019. A 23-year-old woman accused him of sexually assaulting her during a traffic stop. Ruiz was charged with the state charges of felony sexual assault and official oppression charges in connection with that incident. Less than a month later, Ruiz was charged with two new charges of felony sexual assault and official oppression after another accuser came forward, according to the Fort Bend County District Attorney's Office.

The woman told police in August, her boyfriend was arrested on a driving while intoxicated charge. Ruiz arrived at the traffic stop to provide Spanish translations for the woman and her boyfriend, officials say. He then gave her a ride home, prosecutors wrote in a press release. "When they arrived at her residence, he forced her to engage in a sexual act," officials wrote.
This alleged monster also stands accused of falsifying dashboard camera and body microphone recordings with the intent to obstruct the federal investigation into his crimes.
Law enforcement said they believe there could possibly be more victims of Ruiz and asked anyone with information to call the FBI at 713-693-5000.
The arrest comes amid a number of police officers who have found themselves on the wrong side of the law for coercing women into sex acts.
One story we are following closely is that of AZ DPS Trooper Tremaine Jackson. AZ DPS received so many complaints about officer Jackson they actually set up a tip line for victims to be able to come forward. Jackson, like Ruiz, had a similar modus operandi. According to an AZ DPS press release:
On September 10, 2019, after investigating complaints made by the public, Arizona Department of Public Safety (AZDPS) detectives arrested 43-year-old Tremaine Jackson on charges of sexual abuse, sexual extortion, kidnapping, harassment and fraud. Thus far, eight victims have been identified. Jackson worked for AZDPS for 13 years and was most recently assigned to the department's Metro Motors District.
Following the press release and subsequent media coverage, seven more victims came forward with their own tales of sexual favors demanded by the trooper. It is unclear how many more have come in since the tip line tip line was created.
Since Anna Chambers revealed how two NYPD officers raped her after catching her with weed, it seems more women are empowered to come forward and police the police, holding those in power accountable for their despicable actions.
Now, all we need are convictions of guilty officers to translate into real jail time and not slaps on the wrist. More victims in both cases need to come forward to help prevent defense attorneys from victimizing the women all over again like they did with Chambers by calling her character into question. When multiple victims come forward, the women's voices can be heard and believed.