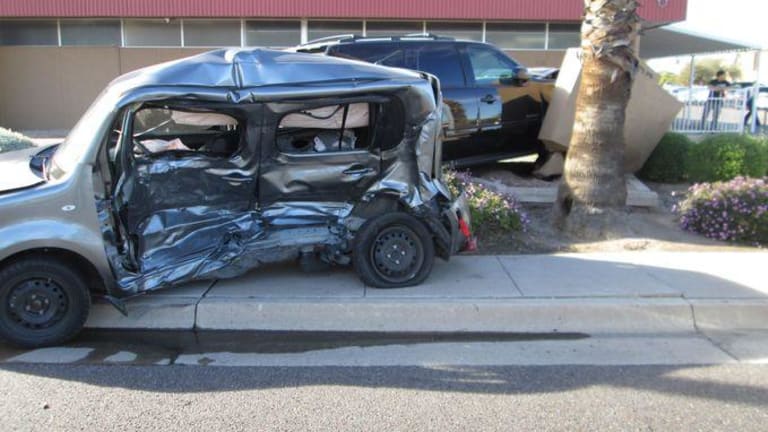 Cop Faces Manslaughter Charges for Killing a Man While Driving Over Twice the Speed Limit
A graphic video shows how a Maricopa County sheriff's deputy was driving at a rate more than twice the speed limit for a non-emergency, moments before his Chevrolet Tahoe T-boned a Nissan Cube in December, killing the 63-year-old driver.
Now, three months after the crash, the Maricopa County Attorney's Office is being asked to weigh whether Deputy Sean Pearce should be charged with manslaughter in the death of Glendale resident John Harding.
Glendale police recently asked County Attorney Bill Montgomery's office to consider bringing the charge. According to AZ Central.
Pearce was in a non-emergency situation traveling at over twice the posted speed limit, 81 in a 40 mph zone. According to the Glendale police report, Pearce, who said he works in the violent-crime unit, was working with homicide detectives conducting surveillance on a suspect.
The suspect left an apartment complex and was being followed on 67th Avenue, while Pearce and a detective in a separate vehicle assisted by "paralleling" a few miles back on 59th Avenue, the report said.
Harry Ryon, a former sergeant and 24-year veteran of the Los Angeles Police Department who specialized in traffic enforcement and collision reconstruction, said law-enforcement officers have the right to violate all traffic laws but only when emergency lights and sirens are activated and when it can be done safely.
Ryon said Pearce "did not have the right under state law to be driving that fast" in the unmarked vehicle with no emergency lights.
Per Arizona law, any rate more than 21 miles over the limit is considered criminal speeding.
"If you're not on an emergency run, you're supposed to obey traffic laws," Ryon said..
This is yet another example of cops violating the very laws that they are tasked to enforce, only this time the corruption and negligence has ended the life of an innocent man.