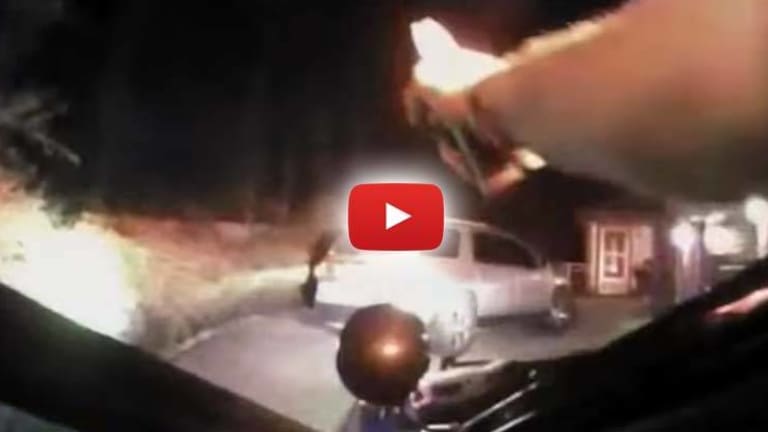 VIDEO: What these Cops Did Would Have Gotten a Citizen Killed -- Instead they Were Let Go
Caught driving over twice the speed limit and reversing toward cops on police dash cam, an off-duty cop was released but recently charged with fleeing.
Fairlawn, OH – While driving more than twice the speed limit in a failed attempt to evade fellow officers, an Ohio cop was caught on police dash cam and body cam videos leading officers in a high-speed chase to capture him. Although his fellow officers immediately released the reckless cop after catching and recognizing him, prosecutors eventually decided to charge the officer over two weeks after the incident.
Around 1:44 a.m. on May 7, Fairlawn officers noticed an SUV driving 77 mph in a 35-mph-zone. As the pursuing patrol car turned on its lights and siren, the SUV attempted to flee by turning down several streets before blindly running into a blocked residential driveway.
"I have a silver SUV coming westbound on Market, and it is flying!" an officer could be heard exclaiming over the police radio moments before the fleeing vehicle was trapped inside a driveway.
According to ">police dash cam video, officers exited their patrol car with guns drawn while the SUV rolled backwards and forwards in a failed attempt to escape before finally parking. After realizing that the vehicle was occupied by two off-duty Fairlawn officers, an on-duty officer could be heard in the video informing the criminal cops, "Well, that was fucking stupid!"
Identifying the reckless driver as off-duty Fairlawn Police Officer Justin Herstich and his passenger as off-duty Fairlawn Police Officer Brandon Foster, Fairlawn police immediately released both cops without a citation or field sobriety test despite the fact that Herstich was captured on video driving over twice the speed limit. When asked why his cops were caught running, Fairlawn Police Chief Ken Walsh absently responded, "Don't know what was on their mind. They should've pulled over. They didn't."
Sixteen days after the initial incident, the Akron Prosecutor's Office finally decided to charge Herstich with failure to comply, reckless operation, and speeding. Although reckless operation and speeding are minor misdemeanors, failure to comply is a first-degree misdemeanor that carries up to six months in jail.
Herstich's passenger, Officer Foster, currently does not face any charges.
"They made a bad judgment in what they did there," Chief Walsh tried to rationalize the criminal actions of his off-duty officers. "We place a lot of trust in them prior to that and we're shocked. We're surprised. I don't know what word to use on it."
Had Herstich and Foster been civilians instead of off-duty cops, the system would not have allowed them to escape criminal charges that night. And, as we've seen time and again, they could have even been killed. But according to Akron Deputy Chief Prosecutor Craig Morgan, Herstich was not charged with a felony because no one was wounded, traffic was light, and the chase was relatively short.
While denying allegations of preferential treatment for police officers who regularly work with the prosecutor's office, Morgan unconvincingly stated, "We look at it just as we would anybody else."
Both officers currently remain on the force.
[author title="" image="https://"]Andrew Emett is a Los Angeles-based reporter exposing political and corporate corruption. His interests include national security, corporate abuse, and holding government officials accountable. Andrew's work has appeared on Raw Story, Alternet, Activist Post, and many other sites. You can follow him on Twitter @AndrewEmett and on Facebook at Andrew Emett.[/author]