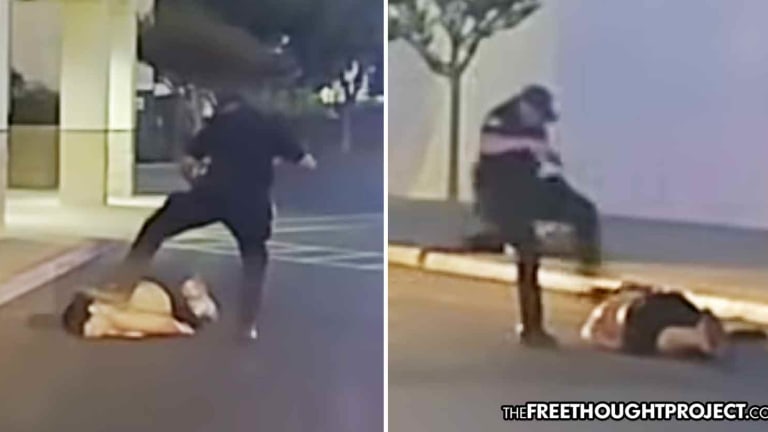 Cop Fired After Video Showed Him Stomping Entirely Compliant Man's Head In
A violent cop who couldn't control his anger, was fired this week after he was caught on video stomping the head of a compliant man into pavement.
Elk Grove, CA — The Elk Grove Police Department made a move of transparency this month and released graphic body camera footage of one of their officers stomping an entirely compliant man's head into the pavement. The department also fired the officer involved. However, they stopped short of charging him with a crime, despite clear video evidence of a crime being committed.
"When we have a critical incident within our community, we want to share as much information with the community as much as possible, said Chief Timothy Albright in the video. "The trust from our community is critical to our success and that trust is built through transparency."
Elk Grove police officer Bryan Schmidt was fired this month for excessive force after video captured him stomping the head of a surrendering suspect in an incident that took place last June.
"It's an excessive force, a force that in unreasonable," Albright said.
The department's own internal investigation found that the suspect, identified as Juan Mendoza, 23, was complying with everything the officers were yelling at him. Despite this fact, Schmidt savagely stomped his head into the pavement.
According to police, on June 5, 2019 at 8:43 p.m., Elk Grove officers were reportedly called to an alleged robbery and assault in progress at a Burlington Coat Factory. When officers arrived, they found a half-naked Mendoza walking from the building.
As the video shows, Jaun is walking out of the building when police tell him to get on the ground and show his hands. Juan immediately complies and does exactly that.
For an unknown reason, Schmidt is seen from multiple angles running up to Mendoza and stomping the shirtless man's head into the pavement. His body appears to go limp after the initial stomp but Schmidt keeps kicking him about the body, yelling at him to put his hands behind his back.
Schmidt later mutes his camera microphone for 13 seconds as he continues to talk to other officers at the scene.
"We have to evaluate what was the level of resistance that called for the level of force, and in this case, those didn't balance," Albright said and reported the kick was not within department policy.
Indeed, the kick left Mendoza in serious condition.
Mendoza was hospitalized after the incident with a life-threatening brain injury, according to his attorney Mark Merin.
"The guy was defenseless on the ground, to come and just bang him in the head with a boot? I mean that's just absolutely unjustified," Merin said.
Although they did not charge him, after the 9-month long investigation, Schmidt was finally fired. In a move to avoid any accountability for not stopping his officer from stomping a compliant man, Schmidt's supervisor resigned after Schmidt was fired.
"That's not who we are, that's not who we desire to be. And I think we demonstrate who we are through what we've done," Albright said, noting that he turned over the results of their investigation to an outside agency to determine whether or not criminal charges are should be filed.
Highlighting the level of hubris among the thin blue line is the fact that Schmidt has already appealed his termination, according to Officer Jason Jimenez, a spokesman for the department. If history is any indicator, the union will likely have him back on the street in no time as a gypsy cop or as a cop in the same department that just fired him. 
Mendoza was absolutely in the wrong and deserved to be held accountable for the crimes he committed. After the incident, Mendoza was arrested for robbery, conspiracy, resisting arrest, and violation of probation.
However, instead of simply doing his time for his crime, because Schmidt couldn't control his rage, the taxpayers of Elk Grove were forced to give Mendoza $100,000 to pay for the bad cop. The police chief agrees.
"The supervising officer failed to identify the use of force, failed to report the use of force and failed to complete an investigation in accordance with policy," Albright said in the video posted Thursday. "This failure not only did not allow a thorough review of the force, but exposed this city to unnecessary liability."