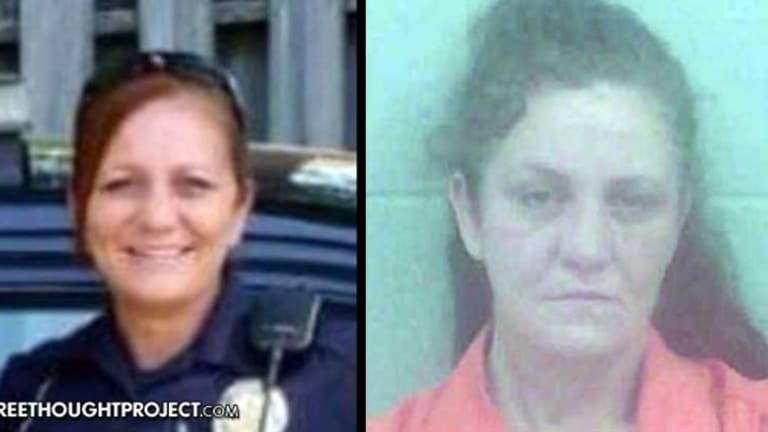 Cop Arrested After Perpetuating Fake 'War on Cops' By Claiming a 'Black Man Shot Her'
The war on cops has been used to bolster the police state and strip Americans of their rights -- but it's not real and this story is one example of why.
Jackson, GA -- Last month, police around the country spread the story and asked for prayers for one of their own who'd been shot while on duty. However, cops and their supporters quickly found out they had been duped by their fellow officer once investigators discovered the entire story had been fabricated. This week, Jackson Police Department, Officer Sherry Hall was arrested for her lies.
Her story, which sounds like a kindergartner made it up, went something like this -- while on patrol, Hall saw a man sitting on the roadside and decided to approach him. As she approached, the man became argumentative, shot her in the stomach, and fled. As the non-existent suspect, described by Hall as 'a 5'8" to 6' black male weighing about 200 pounds,' ran away, Hall fired twice.
Immediately after the fake shooting, news outlets across the country ran with the narrative that a cop had been shot and the suspect was still at large.
During a press conference in September, Chief James Morgan with the Jackson Police Department, called Hall, a four-year law enforcement veteran, the ultimate professional.
"She's highly trained and gives it her all," Morgan said. "She's a very good officer and a very good person."
He's now likely eating those words.
Because an outside agency, the Georgia Bureau of Investigation (GBI), conducted the investigation, and not the Jackson Police Department, inconsistencies were found and actually examined.
Peaking their interests was the fact that Hall indicated she'd turned off all video and audio recording equipment prior to 'being shot.' This led to the GBI looking at evidence from the hard drive of the in-car camera system, as well as engaging the assistance of a GBI Digital Forensic Investigator in an effort to recover additional evidence, according to 11 Alive.
Inconsistencies were uncovered in relation to Hall's story, which led to the conclusion that she was, in fact, not the victim of a shooting. 

In an effort to reconcile the inconsistencies, the GBI conducted a subsequent interview of Hall, and during that interview she stopped cooperating with the investigation.

Further investigation determined that Hall failed to reveal to the GBI that she was in possession of an additional department handgun issued to her on July 1, 2016. After a search warrant was issued for her Butts County residence, the weapon was seized.
On Monday, a warrant was issued for Hall's arrest. She surrendered and was then booked into the Butts County Detention Facility. She stands charged of making False Statements, Tampering with Evidence, Interference with Government Property and Violation of Oath of Office.
Hall's fake shooting story is, unfortunately, not an isolated incident. In fact, several other officers have been caught forwarding the false narrative about the war on cops with fake shootings -- one cop went to the ultimate extreme.
In September 2015, a massive manhunt ensued after Lt. Joe Gliniewicz was found dead 50 yards from his cruiser 15 minutes after he radioed in that he was pursuing three suspects on foot. Despite locking down the entire town, no suspects were found in the area.
The following November, it was revealed that the reason no suspects were ever found was due to the fact that Gliniewicz killed himself. In a press conference, Lake County Major Crimes Task Force commander George Filenko said, "This staged suicide was the end result of extensive criminal acts that Gliniewicz had been committing."
Gliniewicz wasn't alone either. Also in September 2015, a Millis, MA police department placed an entire town on lockdown after a cop claimed he'd been shot by a 'black man.' However, it was quickly discovered that the cop faked being shot at to cover for his reckless driving.
"We have determined that the officer's story was fabricated. Specifically, that he fired shots at his own cruiser as a plan to concoct a story that he was fired upon," Millis Police Sgt. William Dwyer said. "The evidence indicates the shots were not fired by a suspect, and there is no gunman at large in or around the town."
[author title="" image="https://tftpstagingstg.wpengine.com/wp-content/uploads/2016/03/magorist-e1456948757204.jpg"]Matt Agorist is an honorably discharged veteran of the USMC and former intelligence operator directly tasked by the NSA. This prior experience gives him unique insight into the world of government corruption and the American police state. Agorist has been an independent journalist for over a decade and has been featured on mainstream networks around the world. Follow @MattAgorist on Twitter and now on Steemit[/author]