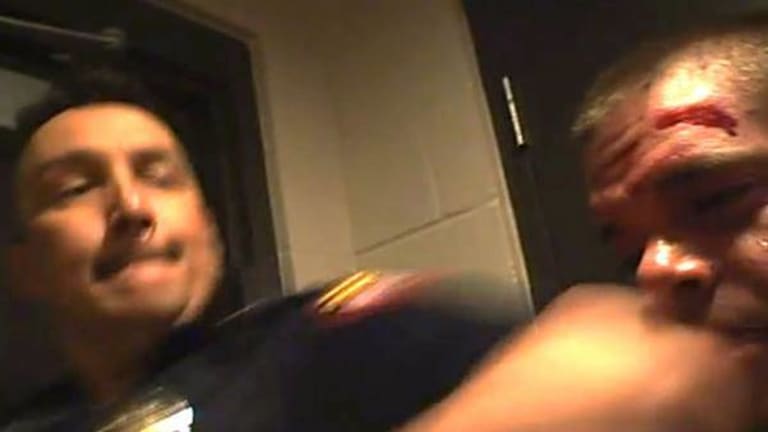 Cop Fired for Beating a Non-violent, Handcuffed Man On Video, Gets Job Back AND Back Pay
Even when police officers are held accountable, it can be eventually negated by the power of their unions and the level of collective bargaining leverage they possess.
Owasso, OK -- Owasso police officer, Mike Denton, was fired after body cam and surveillance footage showed him stomping on a handcuffed man's head and then repeatedly elbowing him in the face.
Denton and two other Owasso police officers responded to a call on June 30, 2011 about an intoxicated man creating a disturbance at an apartment complex.
The officers arrested Bryan Spradlin for public intoxication.
The arrest was caught on all of the officer's lapel cams and paints a clear picture of excessive force, to which the city responded to by firing Denton.
However, the Fraternal Order of Police, who apparently agreed that Denton was simply "protecting himself" by stomping on a man's head, nearly breaking both of his arms, and elbowing him, filed a grievance which was heard by federal mediator Edward Valverde in March of 2012.
According to News on 6,Valverde ruled in favor of Denton, saying that he [Denton] "used unreasonable and unnecessary force against [Spradlin]. However, the discipline imposed is excessive under all circumstances." Valverde ordered the termination changed to a written reprimand and Denton given back pay and benefits.

Rather than abide by the arbitrator's order, the city filed suit against Denton and the Fraternal Order of Police Lodge #149.

The city argued that the arbitrator exceeded the authority granted him under the collective bargaining agreement between the FOP and the city and that because Denton used unreasonable force on an arrestee, reinstating him would violate Oklahoma public policy.

Judge Dana Kuehn ruled in the city's favor on January 8, 2013, but Denton and the FOP appealed.

On April 15, 2014, the Oklahoma Court of Civil Appeals reversed Kuehn's decision. In an opinion written by presiding judge Larry Joplin, the appeals court said the trial court erred in vacating the arbitrator's decision. It said there was no public policy impediment to reinstating Denton.
Valverde reduced the discipline from firing to a written reprimand and ordered the city to reinstate Denton with back pay and benefits.
Denton then returned to work on Sept 22 of this year, keeping his rank and position. "He's put back into the exact same role that he left under, which means that he is a lieutenant over a patrol shift," Police Chief Scott Chambless told Tulsa World.
This rehiring of Denton goes to illustrate the level of impunity that police officers nationwide enjoy. This officer beat a man, who was restrained, was caught on video doing it, and was fired by his superiors for an obvious violation of the law and this man's civil rights. But it meant nothing in the long run.
What do you think? Would you want the man in the video below running around your town with a badge and a gun?