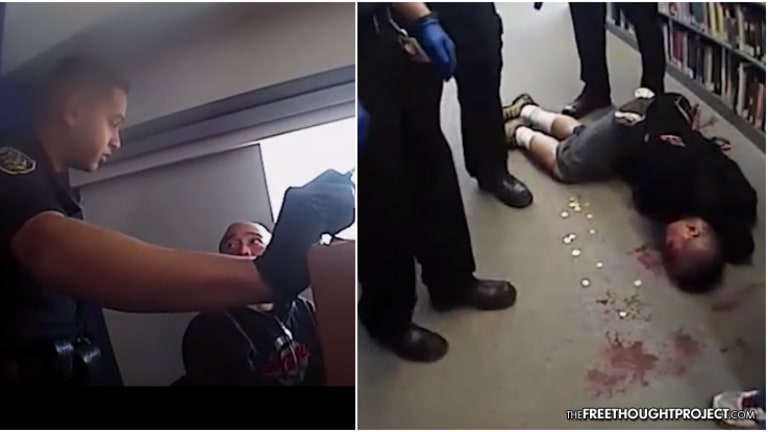 Cop Fired for Beating Mentally Ill Man so Bad He was Hospitalized, Quietly Rehired by Same Chief
San Jose State University officer, Jonathan Silva, was rehired after being fired for beating and tasering a mentally ill man inside a public library.
San Jose, CA - Gypsy Cops are officers who are fired from one police department and rehired at another. As TFTP has consistently reported, serious problems often arise when police make contact with mentally ill citizens. The following story shows just how dangerous Gypsy Cops can be and precisely how they continue to hurt members of the public with their badge abuse.
San Jose State University (SJSU) police officer Jonathan Silva made headlines in 2016 when he responded to a man who was reportedly causing a disturbance on the 8th floor of SJSU' Dr. Martin Luther King Jr. public library. The library is public but also shared by SJSU students.
When Silva arrived he found a man later identified as Philip Chi Chong. Silva appeared to have snapped when Chong refused to cooperate with Silva by telling the cop he was "Satan from Earth" and refused to give his real name and birth date. The campus cop applied a painful wrist lock and then dragged the mentally ill man along the bookshelves, throwing him to the floor.
Silva then began pummeling Chong with punches to his head, neck and torso. Silva then tasered Chong him and continued punching him. When fellow officers arrived, he finally subdued the man. Chong was so damaged in the unprovoked attack he spent 10 days in the hospital. His injuries reportedly included "broken ribs, a fractured wrist, collapsed lungs and cuts to his face and head."
For his part in the bloody attack on a mentally ill man in a public library, Silva was fired. But after appealing his termination a judge sided with Silva granting the officer the right to return to work. The university, however, was more than a bit concerned apparently and pushed back against the judge's decision. SJSU attorney Katherine Winder penned the opinion of Silva's conduct regarding the incident and future incidents.
Winder wrote:
It is likely, especially on a college campus, that Silva may encounter a situation in which a subject, perhaps a college co-ed, would be uncooperative or somehow challenge his authority," Winder wrote in the letter for appeal. "Without acknowledging his past mistakes, it is likely that this type of scenario, Silva losing control and harming someone, will likely reoccur.
The SJSU attorney continued:
In stark contrast to the tale spun by Silva, this case does not represent a reasonable and necessary use of force but rather this case is an egregious example of excessive force that left a public library patron with severe and pervasive injuries...In revoking Silva's dismissal, the [judge] determined that Silva's severe beating of a mentally ill minority member of the public was proper, in a public library at a university.
Unsurprisingly, the disgraced college cop was not unemployed for very long. His former employer at the Los Gatos-Monte Sereno Police Department rehired him in September of 2018. Following the recent release of the body camera footage, Sheriff Peter Decena was pressed to give an answer as to why he hired Silva. (Decena was the acting SJSU police chief at the time Silva attacked Chong. Decena left SJSU in 2017 to head up the Los Gatos-Monte Sereno Police Department. Decena issued the following press release on Wednesday.
He [Silva] participated in our rigorous selection process and completed a thorough background investigation, including a polygraph examination and psychological screening.
The above scenario is precisely how abusive cops retain their peace officer status. Not only is the system often incapable of permanently firing an abusive, irrational, temperamental cop, but such individuals go on to other police departments within the 'good ole boy' network. Often, those same abusive cops go on to abuse and sometimes kill members of the community. Their title then changes from Gypsy Cop to Killer Cop. Chong settled a civil rights lawsuit with the university for a reported $850,000.