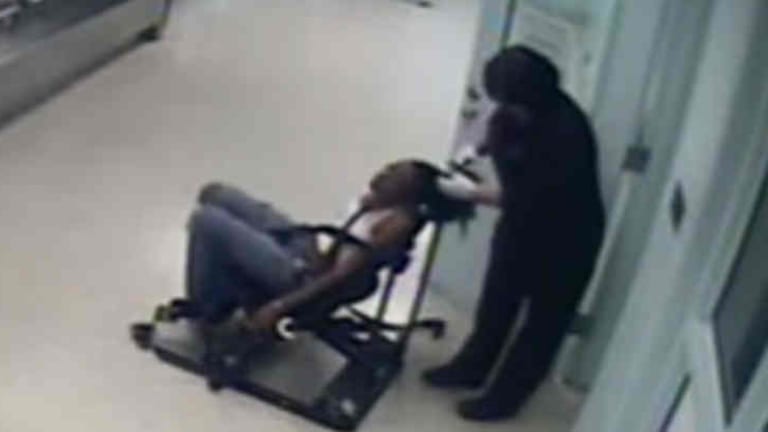 Cop Fired For Forcefully Cutting Off Restrained Woman's Hair, Gets Job Back with Back Pay
Despite protest from her own department, an officer has been reinstated, with back pay, after being fired for a torturous act caught on the jail's surveillance camera.
Warren, MI -- Charda Gregory, a 22-year-old hair dresser, woke up in a hotel room that she did not purchase, disoriented, with no idea how she got there.
Gregory says that when she came to in the room and didn't know anyone, she "flipped out" and was subsequently arrested and charged for trashing the room; charges that would later be dropped.
When Gregory was brought to jail she kicked through a window of the responding officer's car. She was then pepper sprayed and charged with a felony; another charge that was dropped.
Once inside the jail, Gregory is clearly non-combative and posed no threat to officers. She is seen on video, without handcuffs, calmly talking to officers.
Around the 2:25 mark in the video we see Warren Police Officer Bernadette Najor shove Gregory down into a seat. Four minutes later, several officers grab Gregory and force her into a restraint chair, where Najor carries out her sadistic act of cutting off this restrained woman's hair.
Many jails remove an inmate's hair extensions because they could be used as a weapon, but Charda Gregory didn't have extensions. Her weave was sewn into the braids on her scalp. Najor actually cut the extensions and her hair off of Gregory's head as she was brutally restrained.
For several minutes we Gregory flailing in agony as Najor forcefully removes her hair weave.
After the incident Najor failed to file the correct paperwork stating that force had been used against Gregory.
Warren Police Deputy Commissioner Louis Galasso, told the Huffington Post,"I read the police report and was stunned at the very bottom line ... that stated that this person's hair was cut off."
After watching the video, Galasso fired Najor on Dec. 12, 2013, citing that she used unnecessary or excessive force.
Almost 1 year to the date, Najor has been reinstated, illustrating once again that even after police departments take the necessary action rid their ranks of abusive cops, they are powerless in the long run.
Najor, going through a third party arbitrator, was reinstated in December with full back pay, fringe benefits and seniority.
Warren police emailed a statement to HuffPost, saying the city "strongly disagrees with the arbitrator's decision."
"The actions taken by the Warren Police Department were appropriate and required," the statement reads.
The next admission on this statement shows the level of ridiculousness within government employment. Even though the department fired her, it was the right decision, and they do not want her back, they must take her because it's "the law."
"Despite that, this is a nation of laws, and even where we believe that an arbitrator's decision is plainly wrong, we will follow it. ... The City will continue to strive to make this excellent police department even better," Galasso explains.
If the statement above doesn't epitomize the need for competition to break up the monopoly of police services, nothing does.
Of course this incident is not isolated. Just 30 days ago, the Free Thought Project reported on Owasso police officer, Mike Denton, who was fired after body cam and surveillance footage showed him stomping on a handcuffed man's head and then repeatedly elbowing him in the face.
The Fraternal Order of Police fought the department's decision and two years later the court ordered the city to reinstate Denton with back pay and benefits.
Try being fired after beating someone up at your work place and then ask for your job back and back pay for the time that you didn't even work, see how far that gets you.