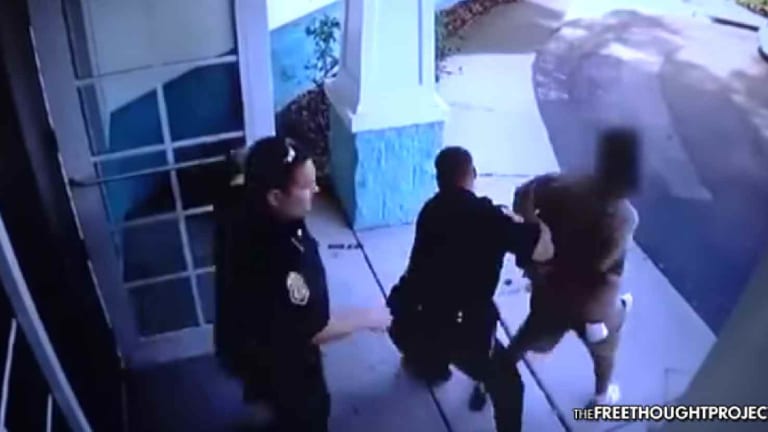 VIDEO: Cop Body Slams Handcuffed 13yo Boy, Breaking His Teeth & Nose
A Clearwater Florida police officer has been fired for slamming a handcuffed 13-year-old boy to the ground, breaking his nose and chipping his teeth.
Clearwater, FL — An out of control police officer, accused of slamming an already handcuffed 13-year-old to the ground, breaking his nose and chipping his teeth has received, in part, some level of accountability. Thirty-three-year-old Michael Leonardo, a military veteran, and now former Clearwater police officer, has been fired.
Leonardo and two other officers responded to the Eckard Youth Center on April 2nd, after officials said a 13-year-old boy was breaking things, punching, walls, and behaving erratically. After taking the child into custody, security cameras recorded the officers escorting the youth out of the facility.
The child seemed compliant but may have gotten mouthy when he turned toward Leonardo. That's when the police officer snapped, grabbed the handcuffed boy, and slammed him to the ground.
Fellow officers can be seen attempting to prevent the takedown, with arms outstretched, but it was too late. Leonardo moved too quickly for his fellow officers to prevent him from injuring the teen.
The boy was taken to the hospital, while Leonardo was called into the chief's office for a man to man. "We have a juvenile, who's 5'6", 150 (lbs), and an officer who's 5'8" 200 pounds, and two other officers there. We should be able to control that prisoner on the way to the car without having to go to a takedown," Chief Daniel Slaughter told reporters. Slaughter said Leonardo admitted to him there were "better options".
After getting his nose broken and his teeth chipped by the irate officer, he was forced to sit on the ground outside of the police cruiser because he was bleeding too much. While waiting for paramedics to arrive, the boy was apparently writhing in pain.
The Clearwater PD chief said the video footage of the "juvenile rolling on the ground, was not something I was proud of." Slaughter said he took no pleasure in firing Leonardo, who was a family man and who had served his country, but he could not have someone like him on his force apparently.
"This is one of the most dis-pleasurable points of my job...having to stand in front of you and discuss this. But what I am proud about is that we are being open and transparent about it and have taken corrective action," the chief concluded as he explained his reasons for firing the officer.
While Leonardo's employment with the Clearwater PD is over, as The Free Thought Project has often reported, fired officers simply find employment elsewhere. They are called "gypsy officers" by some, floating from one department to another, often leaving a wake of abuse in their paths.
With over one million officers on full-time duty throughout the US, there is plenty of room, it seems, for men and women of integrity to fill in where Leonardo left off. But better training needs to occur before the scourge of police brutality in the U.S. comes to an end.
As The Free Thought Project reported last week, the Salt Lake City Police Department has instituted a de-escalation of force training program and retrained all of its officers, for instances just as the one described above.
While the SLCPD has focused on eliminating officer-involved shooting deaths, the same de-escalation measures could have and should have been implemented in Leonardo's encounter with the handcuffed youth. Maybe if they had been implemented, he'd still have his job, and the kid would still have his teeth.