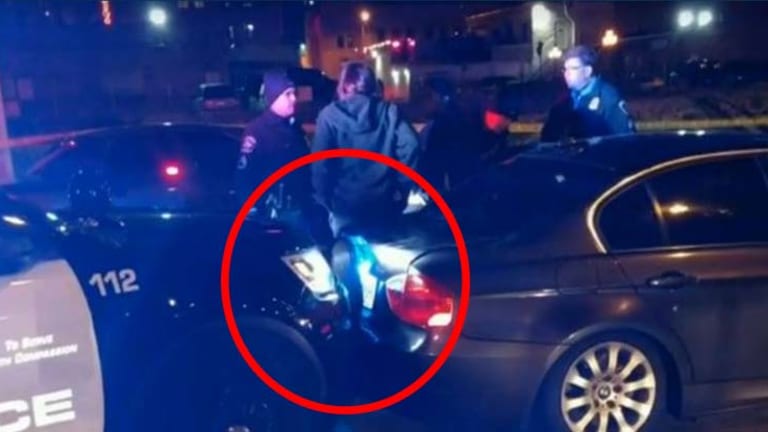 Cop Charged After Shooting into Car Full of Innocent People for No Reason
While listening to one officer's orders to back up her car, an innocent woman and her 5 passengers bumped another cop's car, who then shot at them.
Minneapolis, MN — A Minneapolis police officer has been officially charged this week after he fired into a vehicle with six innocent people inside. Minneapolis police officer Efrem Hamilton was charged with second-degree assault and intentional discharge of a firearm.
The charges stem from an incident on November 19, after a fight broke out in front of a bar. During the fight two people were shot and police stormed the scene.
According to the criminal complaint, Hamilton was working as an off-duty officer at The Pourhouse on 10 South Fifth Street when he heard the shots fired call. He did not communicate that he was responding to assist to the call at any time, as reported by FOX 9.
Caylea Wade and her five passengers were trying to leave the chaotic scene when one of the responding police officers told her to back her car up on 3rd Avenue. As she backed up, Hamilton came storming in. Wade did not see Hamilton and accidentally bumped into the front of his patrol unit.
"They said, 'get back, you need to go.' They reversed. When they reversed, a squad came up. They hit each other. Somebody shot," Odyssey Wade, the driver's mom, said in November.
In response to the low-speed bump, Hamilton jumped out of his police SUV and fired into the car occupied by six innocent people. Thankfully and luckily, Hamilton is a terrible shot and none of the people inside were hit.
"These guys were not suspects. They were told leave the scene, to back up. Get away from the scene," Lou Wade, the driver's father, said, "maybe the girls were in a bad situation, whatever it may be, but it does not justify the police firing."
Caylea Wade also submitted to a blood test for DUI as cops scrambled to justify the shooting. However, she was sober.
After the incident, the driver and passengers in the car filed a formal complaint with the department and Hamilton was surprisingly relieved of his duties. It would take two more months to formally charge him.
When asked by investigators why he fired into a car of innocent people, Hamilton said he saw the vehicle backing up at a higher rate of speed than normal and believed the car to be the vehicle involved in the shooting. However, this was likely all made up after the fact as Hamilton didn't radio in any of it.
According to FOX 9, Hamilton admitted he was shooting at whoever was sitting in the driver's seat of the car, although he had not seen any weapons. He felt his life was in immediate danger based on the observation of the vehicle matching the description of the vehicle involved in the shooting.
Not surprisingly, the Police officers' Federation of Minneapolis has Hamilton's back for shooting into a car of innocent people who did nothing wrong.
"Officer Hamilton has the full support of the Police Officers' Federation of Minneapolis during this trying time. We will have no further comment as this is an ongoing criminal matter." Lt Bob Kroll, President, Minneapolis Police Federation said.