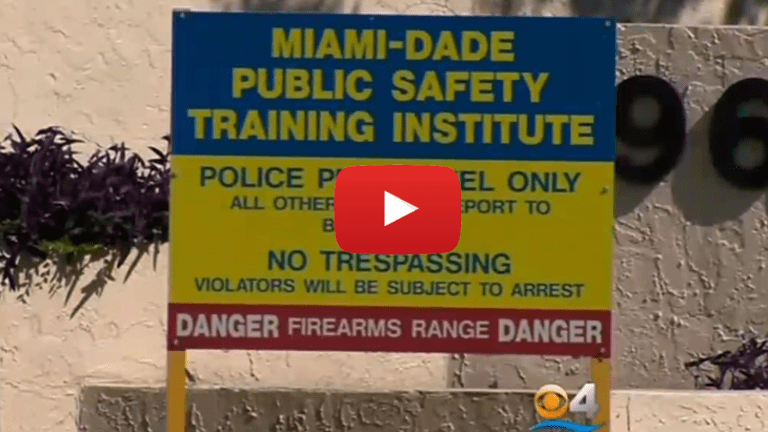 Loose Cannon: Cop Loses it After Getting Angry at Peers, Fires Gun Randomly into the Air
Miami, FL -- A Florida International University Police Officer was recently suspended after firing a gun inside of a Miami-Dade police training facility.
According to CBS 4 News, Officer Joe Mesa was at the gun range at the Miami-Dade Police Department's training facility on Tuesday morning when he fired off several shots after someone else in the facility made a comment that upset him. Witnesses reported the officer fired randomly into the air, shooting the gun about 5 times.
"On October 28, one of our FIU police officers while at a training exercise at the Miami-Dade Police Department's Training Bureau, discharged his firearm in the air, not in part of a training exercise. Nobody one from Miami-Dade Police Department was involved in this in any shape or form in this incident. This just seems to be an isolated action by an isolated individual," Police Chief Alexander Casas said in a statement.
"The officer has been relieved of duty and we are going to conduct our investigation. For all intent and purposes, he is not a police officer while he is relieved of duty. He will not take any action as a police officer," Casas added.
It is not clear what was said that made the officer so upset, but the police department has said that they will be investigating the case.
"The investigative process is one that we will take statements from everyone that was there, collect whatever evidence we can and review the investigation with the State Attorney's Office as well as the FDLE Standards Commission. Whatever the investigation reveals to be, we will do whatever is possible within the process as it is allowed, through collective bargaining, state statute, procedures that need to take place, we will do everything we can in this case," Police Chief Alexander Casas said.
No injuries were reported following the incident.
Below is that interview with Chief Casas.
John Vibes is an author, researcher and investigative journalist who takes a special interest in the counter culture and the drug war. In addition to his writing and activist work he is also the owner of a successful music promotion company. In 2013, he became one of the organizers of the Free Your Mind Conference, which features top caliber speakers and whistle-blowers from all over the world. You can contact him and stay connected to his work at his Facebook page. You can find his 65 chapter Book entitled "Alchemy of the Timeless Renaissance" at bookpatch.com.