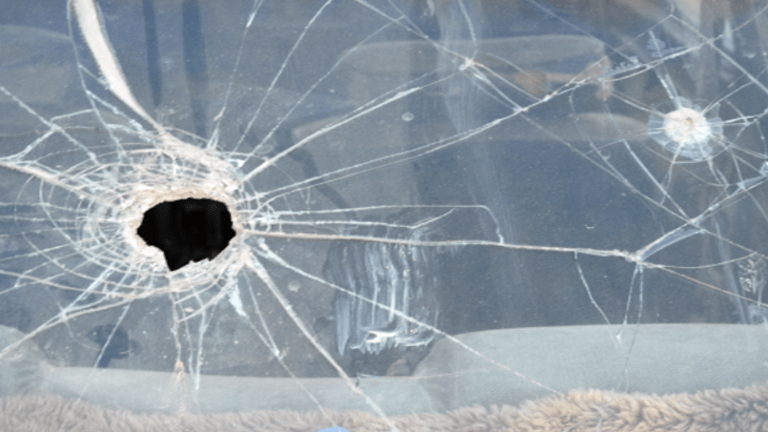 Cop Fires on Unarmed Man and His 6-Year-Old Daughter on Their Way to Get Asthma Medicine
Jacksonville, FL -- Brian Dennison, 29, was rushing home to retrieve his 6-year-old daughter's asthma medication Monday night when he was stopped by Jacksonville Sheriff's deputy, J.C. Garcia.
Upon exiting his cruiser, Garcia immediately drew his sidearm and fired into the car of unarmed Dennison and his 6-year-old daughter.
According to the police report, Garcia spotted a green Ford Focus driven by Dennison speeding through a parking lot near West University Boulevard and St. Augustine Road. Garcia began following the car, and said it blew through a stop sign as it turned onto DuPont Station Road, nearly hitting another car and heading the wrong way toward St. Augustine Road.
At this point Garcia turned on his lights and pulled over the car as it turned into Plantation Apartments.
At a media briefing Tuesday, Assistant Chief Chris Butler told reporters the officer initially believed the suspect was armed so he pulled out his own weapon and fired.
In the initial police report, however, no mention of the shooting was even made. First Coast News asked JSO why they failed to mention the fact that one of their officers fired at an unarmed man and his young daughter, to which JSO spokesperson Melissa Bujeda responded, "The shooting is a separate investigation."
A second incident report, filed after the fact, noted that the officer fired his weapon but it gave no explanation.
On 11-24-14, a JSO Patrol Officer conducted a traffic stop on a suspicious vehicle at 3900 Toledo Rd. During the traffic stop the Officer fired his handgun one time. No one was injured. The Cold Case Unit will follow up the investigation.
Now for the kicker, Garcia, who negligently fired his weapon at an unarmed man and his daughter has not been placed on any type of leave or suspension.
What would have happened if the bullet would have hit Dennison? Or his 6-year-old for that matter? Would the public have been told that Garcia feared for his life over threats from an asthmatic first-grader?
Tragically after being shot at by an overzealous cop, Dennison was arrested on misdemeanor charges of knowingly driving with a suspended license and driving with a suspended license. For failing to pay a traffic ticket, Dennison was shot at and is currently in the Duval County Jail while his daughter, likely traumatized from this incident, is unable to see her father.
It takes a special kind of person to shoot at a man and his daughter and then arrest that man in front of his daughter.
Below is the copy of the intial incident report.
https://www.scribd.com/doc/248240465/Incident-report-for-JSO-involved-shooting
Oddly enough, there were two shootings by JSO officers that fateful Monday night. The other shooting occurred an hour before the one Dennison was involved in, but the driver of the other vehicle wasn't so lucky.
Leonardo Little was also driving on a suspended license and was pulled over for an expired inspection tag. During his arrest, officer Cecil Grant shot and killed Little after a struggle ensued. Grant was not injured in the struggle.