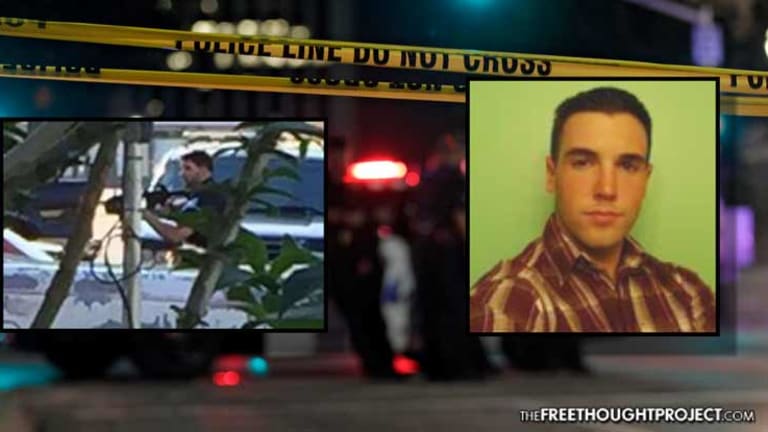 Cop Kills 2 People, Allowed to Resign, Joins New Dept, Shoots Man on 2nd Day—All in a Year
After shooting and killing two men in less than a year, Officer Welch joined a new department where it took him less than a month to shoot yet another man.
Point Blank, TX – A Sheriff's Deputy is currently being investigated for his role in an officer-involved shooting—but this is not the first or even second time he has been the subject of such an investigation, and his record shows that he has been suspended multiple times during his short career.
Chase Welch, 26, was hired by the San Jacinto County Sheriff's Office on July 25, according to the Texas Commission on Law Enforcement. On his second day after joining the department, Welch shot and wounded a 48-year-old man on Aug. 6.
The victim, Vance Chastean May, was shot in the shoulder by Welch while he was conducting a security check at a convenience store around 11:24 p.m. in Point Blank, Texas. May is expected to recover.
However, a quick look at Welch's record could have predicted his role in the recent shooting. Before joining the San Jacinto County Sheriff's Office, Welch served as a marine and then became a police officer in January 2012. He was an officer at the Beaumont Police Department until he resigned on Feb. 3.
Welch's time in Beaumont ended in scandal after he shot and killed 23-year-old Chaz York on Oct. 14, 2016. The incident occurred at a bar while Welch was off-duty. He heard about an altercation outside of the bar, decided to take matters into his own hands, and took York's life as a result.
From a distance of 15 feet, Welch used his Glock 27 .40-caliber handgun to fire eight shots at York. Five of the bullets struck York's body, and his autopsy concluded that he sustained injuries to both arms, his right thigh, his chest, his back, and both of his lungs were pierced.
Despite a number of questionable circumstances surrounding the shooting that killed York—such as what Welch's level of intoxication was at the time, and why he chose to use deadly force in order to deal with a belligerent man outside of a bar—a Jefferson Country grand jury declined to indict him, and he faced no criminal charges.
However, this was not the first time Welch was responsible for shooting and killing a man in 2016, and it also was not the first time he was relieved of criminal charges by a grand jury in Jefferson County.
On March 5, 2016, Welch shot and killed 22-year-old Herbert Ballance IV with a scoped rifle after Beaumont Police arrived at a local trailer park to investigate reports of a suicidal man with a gun. While Ballance reportedly spent the last moments of his life holding a stolen handgun to his head, Welch fired a bullet that struck Ballance in the back of his mouth, exited his scalp, and then struck a neighboring trailer.
In addition to being found "not guilty" in two different shootings that killed two men, Welch also has quite the record, with the first incident on his disciplinary record occurring just months after he was hired by the Beaumont Police Department in 2012.
According to a report from Beaumont Enterprise, the city paid a $5,000 settlement to a man who filed a federal lawsuit claiming that Welch threatened to shoot his dog in 2012. While Welch was not disciplined internally, he was suspended three times in less than two years after he failed to report damaged equipment in his patrol car in August 2013, repeatedly rammed his patrol car into a stolen Beaumont PD vehicle with the suspect driving it in August 2014, and then caused a traffic accident involving a citizen's car in May 2015.
Chase Welch is the classic example of everything that is wrong with the current state of police in the United States. In addition to multiple suspensions, he shot and killed two men in less than a year, and then—after facing no charges—he went on to work at another police department where it took him less than a month to shoot yet another man.
The latest investigation into Welch's use of deadly force is still ongoing, and it remains to be seen whether he will finally be held accountable for his actions.