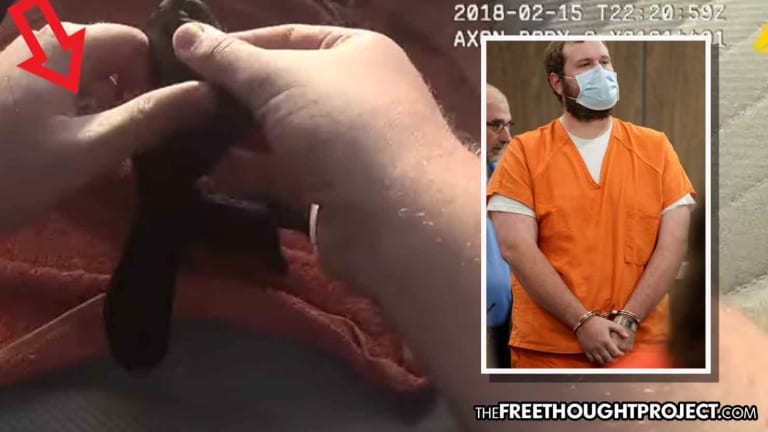 Cop Sentenced to 12 Years in a Cage After Video Showed Him Plant Meth on Innocent Grandma
A cop who ruined the lives of countless victims, framing them for drug crimes by planting meth, has been sentenced to 12 years, 6 months, and 8 days in a cage.
Jackson County, FL — Dozens of innocent people who were rotting in jail have been freed and their charges erased after the corrupt cop who put them there was caught on his own body camera planting meth on an innocent grandmother. As TFTP has reported, disgraced Jackson County Sheriff's Deputy Zachary Wester was fired and arrested, as a slew of lawsuits rolled in.
In 2019, this most insidious police officer was arrested on 67 counts of planting meth and other street drugs on entirely innocent motorists he would randomly pull over.
In May, a six person jury found Wester guilty on 19 counts involving three of his alleged victims and not guilty on 48 other counts involving the other nine victims. This week, he was sentenced to 12 years behind bars.
Wester was convicted on charges of racketeering, official misconduct, fabricating evidence, false imprisonment and possession of controlled substances and drug paraphernalia and with 58 days of jail credit, this extremely bad cop will spend the next 12 years, six months, and 8 days locked in a cage for these crimes.
According to the Tallahassee Democrat, the jury found Wester guilty on counts involving Teresa Odom, Joshua Emanuel and Steven Vann, all of whom were charged with possession of meth after Wester pulled them over. Wester's body camera, which recorded the entire Odom stop, showed him with a baggie in his hand before he searched her pickup truck.
"You've robbed me of my credibility, and [as] a mother and a grandmother for the last three years," Odom said in a brief statement before the court. "I probably missed a year and a half of my grandbaby's life because of this. I wish you no ill will, and you'll never know what you've done to me until you have children of your own."
"The defendant's criminal conduct represents an egregious breach of the public trust," said prosecutor Tom Williams.
Indeed it does as the Free Thought Project reported on all of these victims over the past several years.
During the initial investigation, Wester's coworkers searched his vehicle and found a wealth of unmarked evidence, including 42 pieces of drug paraphernalia, 10 baggies of meth and five baggies of marijuana.
During the trial, Wester tried telling the jury he "found" the items in a men's restroom in a public park and simply forgot about them in his trunk and failed to report it. But the jury did not buy it as the items were similar to those he planted on drivers, investigators said.
As TFTP reported, Wester's fall from law enforcement grace and roughly 120 people who were exonerated are due largely in part to the diligence of a single person, then an assistant state attorney at the 14th Judicial Circuit, Christina Pumphrey.
Pumphrey's job as assistant state attorney included reviewing evidence before moving forward with charges against individuals. When she began reviewing cases, she found something very peculiar.
"This is an exaggeration, but it felt like his (Wester's) name was on half the cases," Pumphrey told The Appeal."It was seriously disproportionate."
When Pumphrey began watching the body camera footage from Wester's arrests, she found something even more disturbing. Many times, Wester was seen conducting illegal searches. Also, his written affidavits did not match what she watched in the videos. But that wasn't the most telling aspect of all these videos.
While it is no question that folks will claim that drugs found on them or in their possession "aren't theirs" and "they don't know how that got there," nearly all of Wester's cases had this element. The videos showed that people were utterly shocked when Wester claimed to have found drugs in their vehicles. While a single person may have been lying, when everyone reacts the exact same way, something is awry.
Although she reviewed multiple videos, Pumphrey never saw the actual act of Wester planting drugs or otherwise hiding them. However, all that changed when Wester pulled over Teresa Odom in February of 2018.
In that video, Wester pulls Odom over, claiming her tail lights aren't working. However, it would later be revealed that her tail lights were, in fact, working fine and Wester had targeted her to frame her.
In the video, Wester is extremely nice to the woman, complimenting her, joking around, and making small talk. But in the back of his mind, he knew the entire time that he was going to plant meth on her and have her thrown in a cage—an insidious move indeed.
After threatening to have a K-9 come search her car, Wester tells Odom that she can avoid the K-9 if she just lets him search her truck himself—a huge mistake.
As the body camera shows, Wester opens the door to Odom's truck and is cupping a small baggie with a white powder in it.
Wester would plant the substance under a red towel in her truck and then pretend to find it later. Odom would then be arrested and thrown in a cage so this officer could make himself look like a hero.
Another of Wester's victims was Chris Fears who was targeted along with his wife by this insidious public servant.
 Wester sang, "We Wish You a Merry Christmas," as he searched the Fears' Chevrolet Tahoe he pulled over in the Lowe's parking lot in Marianna.
"Man, I am in the Christmas spirit," he said as he rifled through the SUV. "I mean, I like to hum a tune in case something ever goes to the jury, you know, so they're not just sitting somewhere ... chilling."
He then planted a container of meth in the car and arrested the couple as he taunted them.
"Looky there," Wester said.
"What the hell?" said Fears, clearly stunned by the discovery.
"I'll explain that in just a minute man, just put your hands behind your back for me," Wester said as he cuffed him.
"I do not do drugs," Fears said. "I do not do drugs."
Using a field kit, Wester tested the substance, which came up positive for meth.
"Man this is bull----," Fears said. "I didn't do nothing. All I do is take my ass to work."
Fears, along with 11 other victims are now suing after their lives was ruined by this cop.
"When he arrested me, I lost my job and I had to pretty much sell everything I had that was worth anything to keep a roof over my head," Fears said. "I couldn't find a job because nobody wanted to hire somebody with a fresh meth arrest. Me and my wife split up for a while over that because it was just so damn stressful."
Apparently, it wasn't just Wester who had an interest in locking up innocent people as he had the full support of his higher ups.
"The state attorney's office was just as bad and just as guilty as Zach Wester when we found this out and were not dropping these cases immediately, in my mind," Pumphrey said. "When it was ignorance it was one thing, but as soon as we know there are innocent people sitting in jail and we don't drop the charges, we're as guilty as he is."
Although Wester was fired after Pumphrey exposed him, it took investigators months to bring the charges against him.
"People still had consequences. It wasn't like this was just all erased," Pumphrey said. Dropped charges still remain on a person's criminal record. And "even though the charges got dropped, there were people sitting in jail for six months on no bond because of this case. Or you've got people who have to spend money on supervision fees; they have to spend money paying for their own urine analysis test; they've done community service hours; they paid cost of bond — like $1,500. … You're not getting back six months of your life. Or you're not getting back the job that you lost because you sat in jail for a week before your girlfriend could get the bond money."
The next time someone tells you that obeying the law will keep you out of trouble with police, show them this article. A single cop had over 100 potential victims. For now, however, it appears that the system has moved to make a correction.
Below is the testimony from Odom during the trial, as well as the body camera footage from this sadistic criminal framing an innocent grandmother. As you watch the video below, imagine the type of person it takes to be able to do this to someone's grandma. Society will be better off for the next 12 years without this man in it.