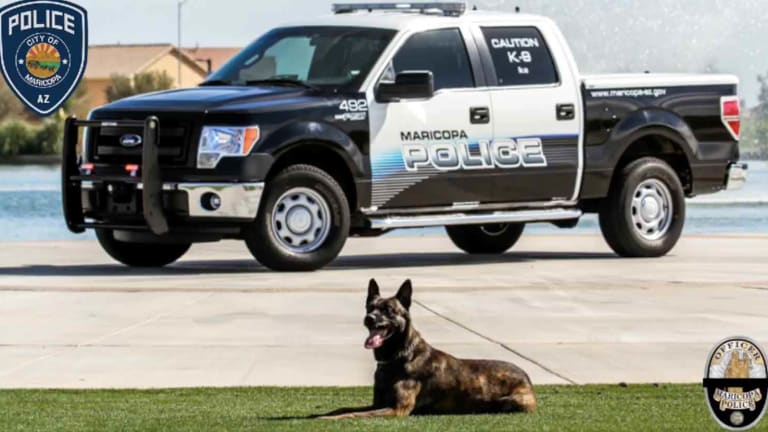 Cop Gets Just 2 Days Suspension for Killing His K-9 Partner by Leaving It in Hot Car
Despite multiple code of conduct violations that led to the death of his K-9 partner, a cop was not charged for leaving his dog in a hot car.
Maricopa, AZ — In the ostensible land of the free, there are two sets of justice systems: one for all those within and connected to the system, and one for everyone else. A perfect example of this two tiered system is the fact that people are jailed all the time for leaving their dogs in hot cars. However, when a Maricopa police officer did the exact same thing and killed his police K-9 partner, he came out on the other end unscathed.
Officer Craig Curry left his K-9 partner, Ike, in his patrol car on June 26, 2020 from 3:00 p.m. until 4:40 p.m. while he was in a meeting. The temperature outside that day was a blistering 108 degrees. During this amount of time, the temperature inside the car reached over 150 degrees in just a few minutes.
When Curry came back outside, Ike had suffered a major heatstroke and was transported to a veterinarian in Maricopa. Due to complications from the heatstroke Ike would have to be euthanized the next day.
Curry claimed that he left his car running with the AC on but when he came back out, the car had turned off. Even if he had left the vehicle off, K-9 officers carry a pager which alerts them to the cruiser's temperature in case there is a malfunction. Curry left his pager in the vehicle.
When investigators asked Curry why he didn't have on his pager, he claimed it took up too much room on his vest.
What's more, according to official department policy, K-9 officers are required to check on their partners at least every 30 minutes. Had Curry done this, his dog would still be alive. Unfortunately for Ike, he did not.
According to ABC 15, an internal investigation by Maricopa police determined that Officer Curry failed to notice broken equipment on and in his vehicle related to the K9 heat alarm, including missing antennas and loose connections on the system.
The report also shows that Officer Curry "had the ability to park in a shaded spot, had the ability to bring his K9 inside the building, or had the ability to repeatedly check on K9 Ike throughout his meeting." But he did not.
The internal investigation revealed that Curry had multiple code of conduct violations that contributed to the death if his K-9, yet no charges were filed by the Pinal County Attorney's Office. Instead, according to the report, officer Curry was given 20 hours of unpaid leave from his department.
The special treatment given to Curry is glaring when we consider other cases of non-police officers doing the same thing. In July, police arrested 46-year-old Andrew Rodrigues for leaving his dog in a hot car. Unlike Curry and Ike, Rodrigues' dog was only in the car for 20 minutes and did not die — yet he was still brought to jail.
In September, 18-year-old Anna Perez was arrested and booked into the St. Tammany Parish Jail on one count of aggravated animal cruelty. Her dog did not die and was only in the car for 20 minutes.
Crystal Marie Houk left her dog in her car with the air conditioner running when she went inside Walmart. The air conditioner was confirmed to be in the on position but had legitimately stopped working, leading to the death of her beloved pit bull. Despite the fact that the air conditioner was confirmed to have malfunctioned, Houk was charged with one count of animal cruelty, a third-degree felony, and arrested as she screamed hysterically in the parking lot after seeing her dead dog.
This special treatment for cops is not uncommon. As we reported last year, Ozzy, a drug-detection dog with the Long Beach Police Department, was found dead in the K-9 vehicle by his handler officer Chris Thue. Thue and Ozzy were off duty at the time which makes the fact that the dog was in the car, entirely suspect.
After the dog died, veterinarians confirmed that Ozzy indeed died from heat exposure. But instead of facing arrest and felony charges — like all other regular citizens would have faced — Thue, like Curry, faced nothing.