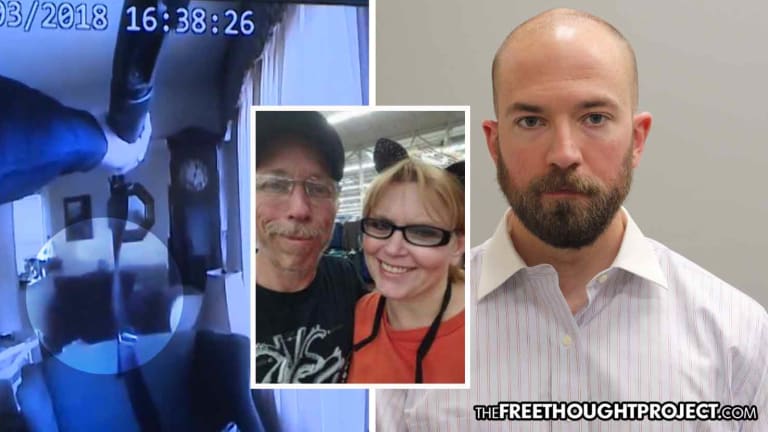 Cop Still on Payroll Despite Murder Conviction for On-Duty Killing of an Innocent Man
Despite being convicted of an on-duty murder, a cop walked out of the courtroom, keeping his job and taxpayer funded paycheck.
Huntsville, AL — Imagine for a moment that you are a McDonald's employee who shot and killed a customer who came in to order some fries. Then imagine that you were convicted of murder for killing that customer. Then, imagine that after you were convicted of murder, McDonald's kept you on the payroll but didn't require you to come to work.
Obviously, the above scenario would never happen because McDonald's is a private business and would lose a massive percentage of their customers if they openly employed a man who was convicted of murder. If you are not a private company, however, and are the Huntsville police department, this scenario is standard procedure and is completely fine.
In 2018, officer William Darby shot and killed Jeffrey Parker. He was convicted of murder on Friday and he is still on the payroll.
Darby was charged with killing Parker, 49, at his home in April 2018. Darby shot Parker as he sat in his home with a gun to his own head, talking to another Huntsville police officer, Genisha Pegues who did not see him as a threat. Parker had called 911 and told a dispatcher he planned to shoot himself. The shooting was captured on body camera footage and showed that Darby's use of force was entirely unjustified.
During the trial, Pegues testified that she was de-escalating the situation when Darby barged in and killed Parker. As the body camera footage showed, Darby grabbed a shotgun from his car, kicked in the door, yelled at his fellow cop to point her gun at Parker and then shot Parker in the face with a shotgun, killing him — all within a few seconds. Parker never once pointed the gun at anyone but himself.
"An innocent man was murdered," Tim Gann, Madison County's chief trial attorney, told the jury. "He called for help and he got Ben Darby."
After being shown the footage and the facts, the jury took a little over two hours to deliver the guilty verdict.
Following Parker's death in 2018, Darby was placed on desk duty and continued to work despite facing murder charges. On Friday, Darby was convicted of murder for killing Parker and despite this conviction, he is still collecting a paycheck. Instead of firing him, the police chief defended the killer cop.
"We are in the first stages of shock," Police Chief Mark McMurray said in a statement. "While we thank the jury for their service in this difficult case, I do not believe Officer Darby is a murderer."
He added, "Officers are forced to make split-second decisions every day, and Officer Darby believed his life and the lives of other officers were in danger. Any situation that involves a loss of life is tragic. Our hearts go out to everyone involved."
Though he's been on desk duty since the murder, on Monday, Darby was allowed to go on paid leave after his conviction and is still collecting his taxpayer-funded paycheck. According to city spokeswoman Lucy DeButy, this is completely normal.
"This is the normal process until formal proceedings under the City of Huntsville's personnel policies and procedures are complete," she said in a statement.
Imagine not being able to fire a convicted murderer whose salary you pay — this is the situation every taxpayer in Huntsville is currently facing.
According to court records, after Darby became a convicted murderer he then posted a $100,000 bail and walked out of the court room a free, and apparently gainfully employed police officer.
Adding insult to special treatment is the fact that because Darby was cleared by his department after they investigated themselves, the taxpayers will not only be forced to pay out a settlement but they were also forced to pay for Darby's defense team.
Darby is facing a minimum of 20 years in prison and has a sentencing scheduled for July. He is free on bond and currently collecting his taxpayer funded check.
Officials with the City of Huntsville sent WAFF the following statement when asked about Darby's defense:
"The City's Legal Department is working to determine the cost of Mr. Darby's defense. We will get back to you when a figure is available. As to your question about Mr. Darby's plans to appeal, the City of Huntsville has not made any decisions on this issue. We do not have any information at this time about requests for additional money to be spent on Mr. Darby's legal defense."
Given that the mayor has already made a statement that Darby should appeal, it is highly possible that this convicted murderer will remain a cop on the taxpayer dime until that appeal, which could also be funded by the taxpayers.
Correction: this article originally claimed the settlement to Parker's estate has already been paid out. It is currently moving through the courts and has not yet been settled.