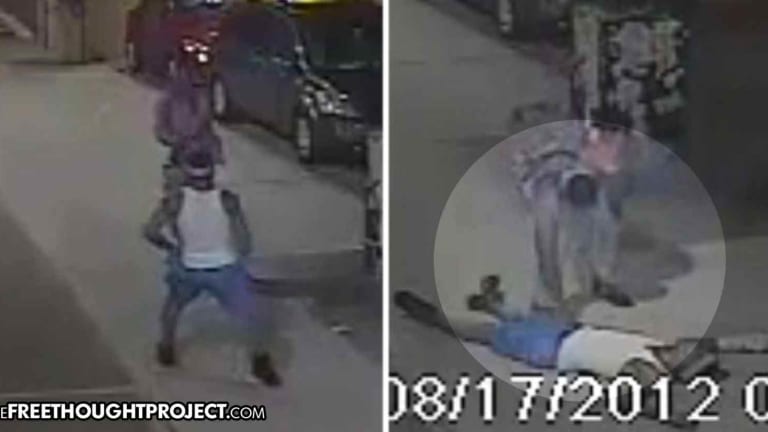 WATCH: Cop Shoots Innocent Unarmed Man in the Face, Plants a Knife—NO JAIL
Despite conviction after being seen on video shooting an unarmed, innocent man in the face and planting a knife on him, an NYPD cop received no jail time.
New York, NY — A police sergeant in New York was caught on video last year confronting an unarmed 21-year-old man and shooting him at point blank range right in the face and then planting a knife on him. Sgt. Ritchard Blake claims the victim, Thayvone Santana was trying to rob him, but video and family members say otherwise. Now, after the officer was fired, charged and convicted, he will serve no jail time — receiving just five years of probation instead.
According to a report in the New York Post, Blake was sentenced earlier this month.
Brooklyn Supreme Court Justice Danny Chun agreed to give Ritchard Blake the slap-on-the-wrist sentence when he copped to an evidence tampering charge in October.
According to police, Blake claimed that Santana was attempting to rob him, so he had no choice but to shoot him in the face. However, police later changed their story and admitted that Santana and Blake knew each other and were in a dispute over a girl and a phone charger.
As the Post reports:
In a pending lawsuit against the city, Santana alleges that the beef started after Blake's girlfriend borrowed Santana's phone charger.

Santana claims he ran into Blake on the way to buy a new charger, and Blake said to stay away from his girlfriend before firing the shots.
As the video shows, Blake and Santana appear to be having a verbal dispute on the sidewalk. At no time does Santana ever try to attack, pull a weapon, or otherwise physically assault Blake.
However, as the video shows, Blake then pulls a gun from his waistband and fires off three rounds into Santana's face.
After Blake shoots the innocent man, he is then seen on the video bending over his victim and placing a large knife next to his body.
"As Thavone lay choking on his shattered teeth and blood, Sgt. Blake pulled knives out of his back pocket and planted them on Thavone's person," Santana's suit alleges.
"Sgt. Blake then noticed the surveillance camera and quickly retrieved the weapons he planted."
At the time of the shooting, Blake's attorney attempted to pain Santana as the aggressor, going so far as to call him a gang member.
"It's tragic that Mr. Santana was shot and injured but unfortunately it was this known gang member's own menacing actions of chasing Mr. Blake in the middle of the night and motioning as if he had a gun in his pocket that caused Mr. Santana to be shot in self-defense," the ex-cop's lawyer, Abe George, claimed in a statement
There was only one problem with planting the evidence, however—the surveillance camera. Once Blake seemed to realize he was on surveillance video, he then picked the knife back up and put it in his back pocket.
After he was seen on video shooting an unarmed man in the face and planting evidence, Blake was not immediately arrested. Not only was he not arrested but he was allowed to stay on the force for weeks.
"This defendant is now a convicted felon who has been held accountable for his actions and is no longer a member of the NYPD," Brooklyn District Attorney Eric Gonzalez said, adding that he wished Blake would've gotten prison time.
"We rely on the truthfulness of our police officers to maintain the integrity of the criminal justice system, which makes his egregious and criminal conduct of trying to frame an individual in this case especially disturbing," he said.
Adding to the unscrupulous nature of this case is the fact that Blake was already on administrative probation with the department because he had been charged with beating a woman in 2016. In March 2018, the NY Daily News reported that as a result of the assault on a woman, Blake was suspended for 36 days and placed on dismissal probation.
Dismissal probation means that cops who've been charged with crimes can stay on and work, but it allows the police commissioner to fire them without a trial during their yearlong probation.
When you watch the video below remember that the person shooting an unarmed innocent man in the face and planting a weapon on him is a cop. Because he was a cop, he was able to commit attempted murder and frame a man—and get no jail.