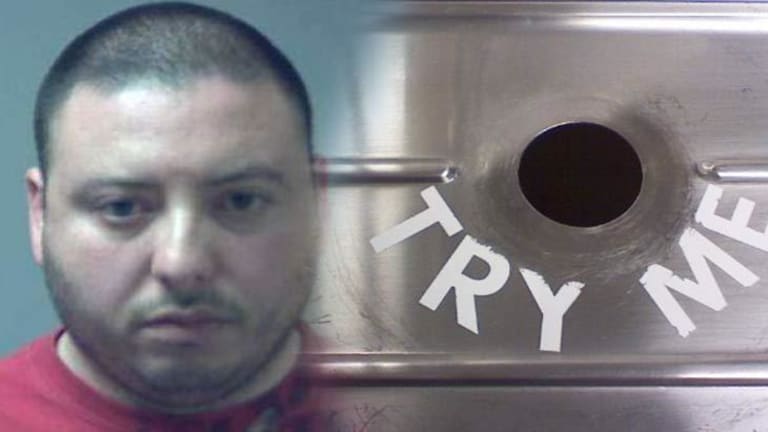 Cop Admits To Posing as Woman To Give 60 Men Oral Sex Through A Hole... But There's More
An investigation into Missouri cop is revealing a sick and twisted history of sexual assault.
Chesterfield, MO - A Missouri police officer has recently been exposed as a sexual predator who terrorized his community, this week he has pleaded guilty to the first of the charges against him. Although a recent investigation has revealed that former Chesterfield police officer David E. Cerna is connected with a number of different sex crimes. The first charge against him stem from a scam that he ran on craigslist where he pretended to be a woman and lured straight men to his home for anonymous oral sex.
On the website, the 34-year-old police officer would offer free oral sex and send them a picture of a woman that he claimed to be, but when the men arrived at his home, he said he would only perform the act anonymously, through a hole in the door. At least 60 straight men were coaxed into this situation and were recorded by Cerna, who later posted the videos on pornography websites. He was later charged with invasion of privacy for recording and publishing the sex acts and plead guilty this week.
However, the resulting investigation uncovered even more evidence of wrongdoing on the part of officer Cerna, including at least one circumstance where an underage boy was arrested and sexually assaulted on camera. The investigation also showed that Cerna had placed a spy camera in the bathroom of a local convenience store and posted those recordings on porn sites as well. It was suggested in some reports that the sites were actually owned by Cerna, meaning that he was profiting from them as well.
After the investigation was made public, Attorney Gonzalo Fernandez pointed out that there were likely many underage victims that were directly assaulted by Cerna while he was on active duty.
"In fact the contact would often be initiated by him performing some sort of traffic stop. Some of these people are minors... I know one of them was as young as 16," Fernandez said.
"David Cerna kind of took it upon himself to walk through various bedrooms of the house by himself, which at the time seemed strange to the family and now knowing what they do about his propensity for clandestine filming, you wonder," he added.
The mother of the victims reportedly said, 'It`s messed my son up horribly. He is paranoid all the time, thinking that someone is watching him, all the time. He won`t sleep alone. He thinks people are after him all the time."
The investigation into the full extent of Cerna's crimes is still ongoing, and it is unclear exactly how much time he will be facing.
John Vibes is an author, researcher and investigative journalist who takes a special interest in the counter-culture and the drug war. In addition to his writing and activist work, he organizes a number of large events including the Free Your Mind Conference, which features top caliber speakers and whistle-blowers from all over the world. You can contact him and stay connected to his work at his Facebook page. You can find his 65 chapter Book entitled "Alchemy of the Timeless Renaissance" at bookpatch.com.