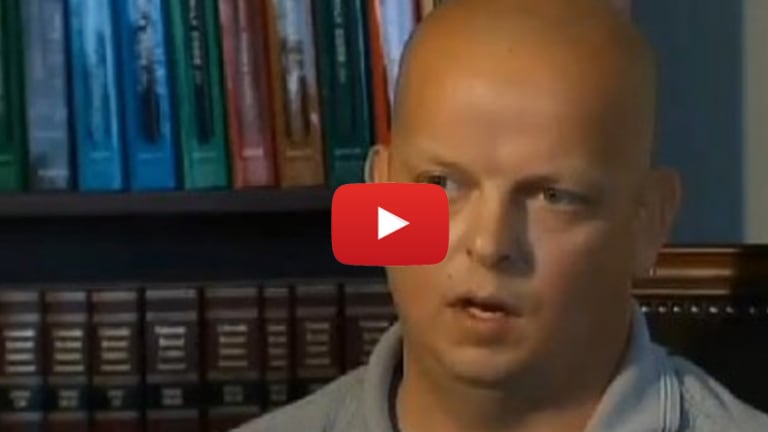 Former Cop, Infamous for Killing a Family's Dog, Has Epiphany About the Broken Police System
"I don't believe I can put the badge and uniform back on, and go out and fight for something I really wholeheartedly don't believe in at this time."
Former police officer Jerrod Dooley of Rains County, Texas, became a viral villain earlier this year, when he shot and killed someone's dog while responding to a call. After the incident, Dooley experienced a swarm of press coverage that quite possibly changed his life forever.
For the first time in his career as a police officer, Dooley began to experience people who were questioning his actions, and even more earth-shattering, questioning the authority that he assumed to have as a law enforcer.
Prior to the incident, Dooley was told by most of the people who he came in contact with that he was a hero and that he was doing important work, but then after his st0ry made international news, the whole world was calling him a heartless killer. This experience forced Dooley to rethink his entire life.Man's
Once the incident went public, Dooley was charged with animal cruelty, but later reached a plea agreement with prosecutors, in which he agreed to forfeit his law enforcement license in exchange for having the charges dropped.
Dooley recently told local WISTV 10, that he is not sure if he would ever want to put on a uniform again even if he could, because he has lost faith in the system that he once helped operate.
"I went from one day, everybody patting me on the back, thanking me for getting drugs off the street, and it was just like a switch flipped, and they just wanted to be rid of me," Dooley said.
"I don't believe I can put the badge and uniform back on, and go out and fight for something I really wholeheartedly don't believe in at this time. That's the way I feel after the way I was done throughout this process. It put a little distrust in my mind for the justice system, the way it is," he added.
Dooley says that he is haunted by the death of the dog Candy that he shot, and that this memory will follow him for the rest of his life.
"I still hear her yelp from time to time, I still think about it a great deal, and I'll probably think about that forever," Dooley said.
"I don't want anybody thinking I'm some kind of monster, because that's not me at all, I hurt over shooting that dog. I honestly hurt over shooting that dog," Dooley said.

Dooley says that he regrets the decision that he made, and blames his history as an SPCA investigator, where he suffered an attack that he says traumatized him.
"When I was attacked as an investigator for the SPCA, it was a very severe attack.My left rib cage was ripped open. It's sorta like when you're a kid, and you burn your hand on the stove...you don't want that to happen again," Dooley said.

One thing that is very interesting about this case is that it shows how important it is to give honest feedback to police about their actions, the laws that they are enforcing and the system that they are working to perpetuate. In this case, the activism that followed this tragic event seemed to have a huge hand in changing this former officer's perspective on law enforcement.
John Vibes is an author, researcher and investigative journalist who takes a special interest in the counter culture and the drug war. In addition to his writing and activist work he is also the owner of a successful music promotion company. In 2013, he became one of the organizers of the Free Your Mind Conference, which features top caliber speakers and whistle-blowers from all over the world. You can contact him and stay connected to his work at his Facebook page. You can find his 65 chapter Book entitled "Alchemy of the Timeless Renaissance" at bookpatch.com.