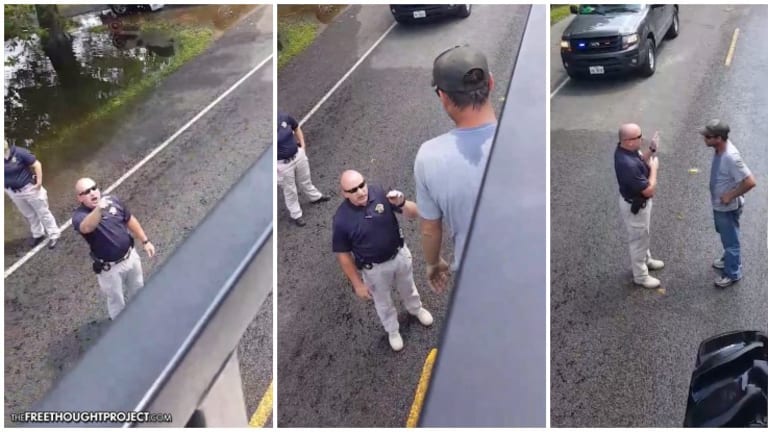 WATCH: "We're Done Here" Power Tripping Cop Tells Harvey Flood Rescuers To Leave
Volunteers looking to help victims of Hurricane Harvey were apprehended by a police officer in Vidor, Texas, who told them that their help wasn't needed.
Vidor, Texas — Volunteers aiding the victims of Hurricane Harvey in the flood-ravaged city of Vidor were stopped by police in an encounter that was caught on video. James Hartwell posted the video on Facebook on Saturday, writing:
"So this just happened. Jared Kirkendoll and Scott Green was just told that they have to leave vidor because they are not needed here.. but yet they are doing more than any off the law enforcement is doing here. This is the biggest crock of bullshit ive ever heard. Fuckin power trip. Helping people and get treated like that. Oh and as you can see he was a total ass hole."
Watch the video of the interaction below:
In the video, an officer approaches the men who were riding on the bed of a large "buggy" pulled by a truck that they transported to Texas to help with relief efforts. The officer yelled, "Is this your vehicle?"
When Kirkendoll said that it was, the officer responded, "You guys need to come down here right now ... Because I said so."
"You don't gotta be so grouchy?" Kirkendoll replied. "What do you need?"
"I want you to climb on down," the officer demanded. "I wanted to take a look at your identification."
When Kirkendoll said his identification was in the truck, the officer yelled, "Come on down, come on down right now, or you're not going to be leaving."
After Kirkendoll climbed down from the vehicle and talked to the officer for less than a minute, they shook hands and he returned.
"We're just trying to help people," Kirkendoll said as he climbed back onto the trailer. "We're out a shitload of money and we came all the way down here just trying to help."
The officer replied, "My house is flooded too, but I've got to be out here helping people. We appreciate that you're here, but we've got enough."
In a statement to The Free Thought Project, Kirkendoll said he and Green drove 16 hours from Illinois, in order to help out victims of the flood.
"We were helping people out and taking water and supplies to people," Kirkendoll said. "In fact, we were dropping water to people and we had four people on the buggy, taking them to land."
In a separate video published on Saturday morning, Green documented the group's trip to Texas, along with the supplies they collected to give to the families in need.